McEnroe working on TV while pupil Milos Raonic on court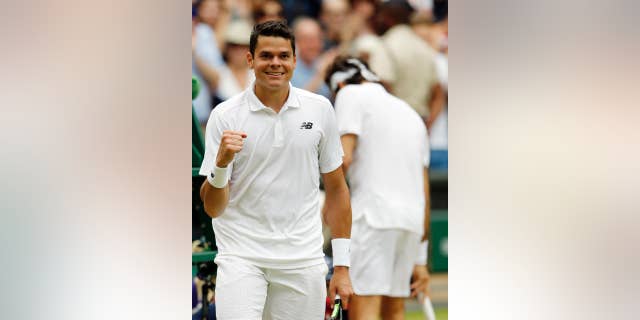 NEWYou can now listen to Fox News articles!
LONDON – When Milos Raonic was out on Centre Court fighting for a spot in the Wimbledon final, John McEnroe was watching closely.
The three-time champion at the All England Club wasn't in the player's box with Raonic's other coaches, however. He was in the commentary box working his TV job.
"It doesn't really make a difference by any means," said Raonic, who started working with McEnroe last month before the grass-court season. "I remember when I played ... in the third round, he messaged me and said, 'Hey, they want me to call your match. Do you mind? If you need, I'll sort of request to call another match.'
"I said, I don't mind at all. Hopefully I will have to face the situation where you can't call any other match."
That day will come Sunday when Raonic takes on Andy Murray in the Wimbledon final.
Raonic advanced to his first Grand Slam final Friday, beating seven-time Wimbledon champion Roger Federer 6-3, 6-7 (3), 4-6, 7-5, 6-3. After the match ended, many reporters wanted to know about McEnroe's influence.
Raonic, the first Canadian man to reach a major final, said he's become more vocal on court, something McEnroe was both famous — and infamous — for doing.
"I think he's definitely put an emphasis on it," Raonic said. "A lot of times I felt in matches that I need to sort of calm myself down to let things from getting out of control.
"He sort of implemented it in the sense of from how he's seen me play. There's no, 'too calm for you. You tend to be too calm, try to get energy out of you, try to get it out of you on court and leave it all out there, try to get the most out of yourself.'"
Raonic's other coaches are former No. 1 and 1998 French Open champion Carlos Moya, and Ricardo Piatti. But it's McEnroe, who won the Wimbledon title in 1981, '83 and '84, who will likely get the credit for Raonic's run at the All England Club if he wins Sunday.
And that's just fine with Raonic.
"At the end of the day, I get to win Wimbledon," Raonic said. "Who cares?"