McCarthy, Rodgers have been extremely unlucky in close playoff games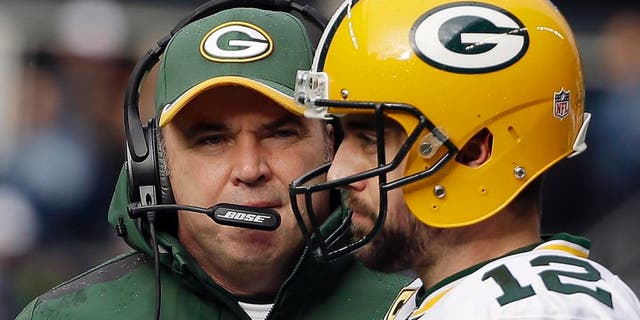 Since Mike McCarthy became the head coach in 2006, the Green Bay Packers have been severely unlucky in tight playoff games.
The 26-20, overtime loss to the Arizona Cardinals on Saturday night was McCarthy's seventh playoff loss with the Packers. It was the fifth time his Packers fell on the final play of the game.
Via ESPN's Jason Wilde:
Quarterback Aaron Rodgers has now lost three career playoff games in overtime, making him one of three quarterbacks in NFL history with at least that many -- Brett Favre and Peyton Manning are the others.
Via SportsCenter on Twitter:
McCarthy's first crushing playoff loss came in the 2007 NFC Championship, when kicker Lawrence Tynes lifted the New York Giants to a 23-20 victory with a 47-yard field goal in overtime. Favre was still the quarterback then, so Rodgers' overtime playoff losses were against the Cardinals in January of 2010 (Wild Card), against the Seattle Seahawks last January (NFC Championship) and against the Cardinals again this January (Divisional).
The other heart-breaking loss during McCarthy's tenure was not an overtime game. After the 2013 season, the Packers lost, 23-20, in the Wild Card round to the San Francisco 49ers on a last-second field goal by Phil Dawson from 33 yards out.