McCarthy: Packers will adjust, stay course without Jordy Nelson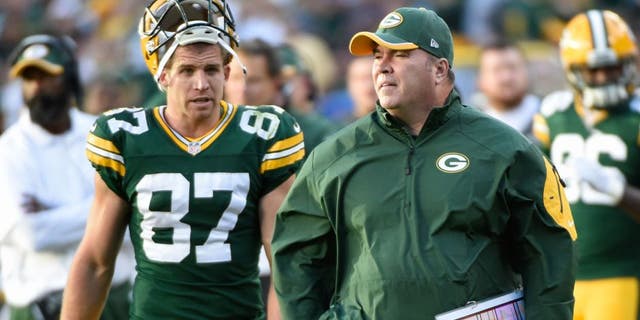 GREEN BAY, Wis. -- Packers coach Mike McCarthy knows his team took a tough blow in losing top receiver Jordy Nelson to a knee injury.
He is not interested in making excuses.
McCarthy said Tuesday that the offense would adjust and move on. He is looking for receivers to step up, but nothing has changed in terms of how he wants his team to play.
"How we want to play, the style of football we want to play, the important building blocks of how we go about our business each and every day, that will not change," McCarthy said.
It's just going to be a little different without Nelson, who was lost for the season with the right knee injury after jumping for a pass on the first series of the 24-19 loss to the Steelers on Sunday.
He was NFL MVP quarterback Aaron Rodgers' top target on the highest-scoring team in the league with 98 catches for 1,519 yards and 13 touchdowns.
"I think first off you have to recognize the fact that Jordy is, he is what you look for as far as a Green Bay Packer," McCarthy said. "When you have the opportunity to build a program, a championship program, and you talk about what you want your players to look like, act like, he's a prime example of that."
Randall Cobb and promising second-year player Davante Adams each move up a spot on the depth chart with Nelson sidelined.
That leaves opportunities for younger players including Myles White and Jeff Janis, along with rookie Ty Montgomery, who seems to have a hold on the No. 4 receiver slot.
This will be a critical week for less-experienced players to develop the rapport and earn the trust that Rodgers had with Nelson, who was going into his eighth year in the league. The Packers host their first preseason game of the season on Saturday night against Philadelphia.
White, Janis and Montgomery are "going to play even more football come Saturday night against Philadelphia," McCarthy said. "So yeah, I think it's loud and clear the opportunity that's in front of them."
Notes: McCarthy said that G T.J. Lang and backup QB Scott Tolzien were each going through concussion protocols after getting hurt against the Steelers. . . . LT David Bakhtiari (knee) was improving, McCarthy said, though whether he plays on Saturday will depend on if and when he returns to the practice field.