McCarthy: Packers offense isn't 'broken'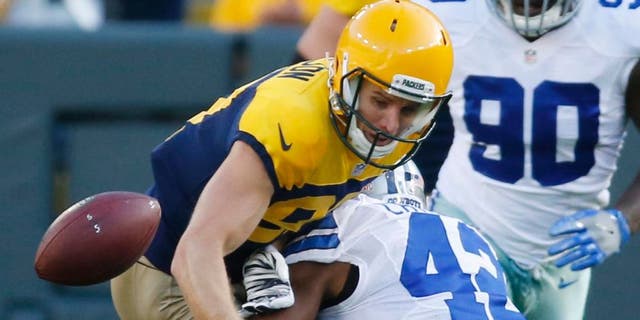 GREEN BAY, Wis. -- Aaron Rodgers needed to unwind after a so-so day at the office.
Sure, the Packers quarterback was 31 of 42 for 294 yards. But a season-high four turnovers doomed Green Bay in a 30-16 loss on Sunday to the Dallas Cowboys, and Rodgers was responsible for two of them.
It made for choppy night again for the Packers' offense.
"I don't know if I agree with 'broken.' It's definitely not clean in some areas," coach Mike McCarthy said.
The Packers planned for a long night of studying film before turning their attention right away on Monday to the Chicago Bears, their opponent on Thursday night.
"Have a glass of scotch and chill out a little bit, watch the film," Rodgers said about his plans for Sunday night. "I'm my biggest critic, and I look at this as finely as I look at every other game and improve."
Drops were a problem at times for receivers. Timing seemed to be off during a couple other instances. Rodgers overthrew open receiver Randall Cobb in the back of the end zone early in the fourth quarter, and the Packers had to settle for one of Mason Crosby's three field goals.
The turnovers especially hurt. The Packers had five fumbles, losing three.
Rodgers fumbled on first-and-goal at the Cowboys 1 with 1:10 left in the third quarter. It was a designed draw play out of an empty backfield.
Jordy Nelson fumbled after a hard hit from safety Barry Church as soon as the Packers receiver came down with an 18-yard pass over the middle in the first quarter. The Cowboys recovered at the Packers 36.
"We're down," Nelson said. "Offensively, we didn't play the way we need to. We made some plays, didn't make enough, didn't take care of the ball, and that's not us."
Fans at Lambeau Field booed at times. Even Rodgers, the two-time NFL MVP, wasn't immune from the jeering.
"Look, we're upset, they're upset, it's part of it," Rodgers said of the booing. "It's not the first time. Probably won't be the last time."
The Packers didn't get into the end zone until Rodgers and Cobb connected on a 6-yard touchdown pass with 6:53 left to get within 27-16.
There are some positives on which to build.
Rodgers was sacked just once. Eddie Lacy ran for 65 yards on 17 carries in spite of a sprained left ankle. Second-year receiver Ty Montgomery proved to be the Packers' best receiver with 98 yards on 10 catches, with a team-high 12 targets.
With backup running back James Starks out with a knee injury, Montgomery ended up taking three carries in the backfield, too, for 6 yards.
"I felt my movement was good tonight," Rodgers said. "I felt the line blocked really well. We've got to do a better job of hitting the ones we're used to hitting."
The output just doesn't match the high bar that the Packers have set in recent years.
"To keep comparing it to the past is a benefit to us because we know what it looks like. We have people that were here in the past that were a part of that," McCarthy said. "But at the end of the day, we obviously have work to do, and that will be our approach."