Mayweather Criticizes Lin Coverage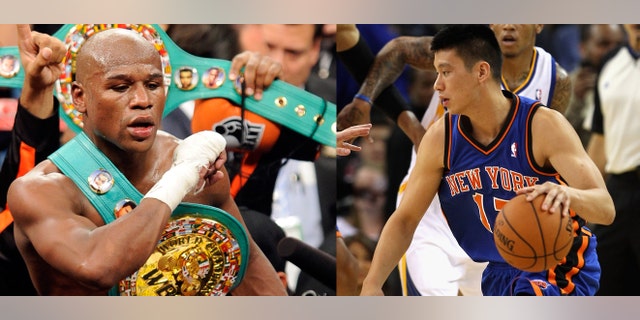 While we may not be anywhere near a Floyd Mayweather Jr. vs. Manny Pacquiao boxing matchup we have moved closer to a Mayweather vs. Jeremy Lin matchup.
Jeremy Lin -- as in the New York Knicks basketball player and the NBA's most talked about player.
Mayweather, who is scheduled to face Miguel Cotto in May, took to Twitter to address the phenomenon known as "Lin-Mania."
"Jeremy Lin is a good player but all the hype is because he's Asian. Black players do what he does every night and don't get the same praise," Mayweather tweeted Monday.
Lin has taken the sports world by storm in recent weeks with his quality performances since he entered the starting lineup for the Knicks. The biggest highlight for him has been 38 points in a win over the Los Angeles Lakers.
The Asian-American Lin is of Taiwanese descent. He played basketball at Harvard and is a first-generation American.
Mayweather defended his comments as support for "Black American Athletes."
"I'm speaking my mind on behalf of other NBA players," tweeted Mayweather. "They are programmed to be politically correct and will be penalized if they speak up."
Follow us on twitter.com/foxnewslatino
Like us at facebook.com/foxnewslatino