May the force (outs) be with Brewers Nelson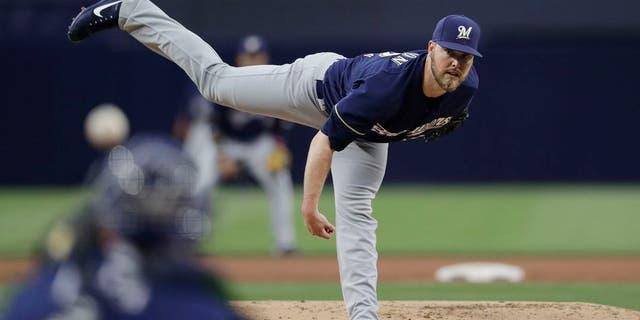 Jimmy Nelson might want to take a permanent marker to the calendars around the Milwaukee Brewers clubhouse and change all of the months to say May.
After struggling through April with a 5.34 ERA, .301 opponent batting average and 1.53 WHIP, Nelson has turned things around this month, posting a 1.15 ERA, .193 OBA and 1.02 WHIP while also striking out 10.34 batters per nine innings.
Nelson's May began when he tossed three no-hit innings at Pittsburgh only to be removed following a long rain delay. He followed that up allowing four hits and one unearned run in 6 2/3 innings vs. Boston then winning at San Diego, tossing six innings and giving up two runs.
This should really come as no surprise as Nelson has typically started slow and picked things up in May. In fact, May is Nelson's best month statistically -- in every major category -- over his career.
In 14 career April starts, Nelson has an opponent slash line of .247/.325/.390 with a 4.15 ERA, 1.300 WHIP and 7.2 K.9.
But in 16 May starts, his opponent slash line is .223/.306/.376 with a 2.74 ERA, 1.157 WHIP and 8.4 K/9.
We guess this brings new meaning to the saying "May the force be with you."
Other notes:
-- Milwaukee's win percentage differential compared to last season is +.117, which is the fifth-best increase in the majors. Toronto's is -.127, the third-largest decrease.
-- The Blue Jays have the most players with a home run this season, 16. Milwaukee has 14, tied for second most.
-- Travis Shaw has 34 RBI in his first 39 games as a Brewer. Only Lyle Overbay (38 in 2004) and Richie Sexson (38 in 2000) have more over that span. Overbay and Sexson also hold the franchise record through 40 games (38).
Statistics courtesy STATS and baseball-reference.com