Max Holloway wants to go down as 'the best guy to ever do this'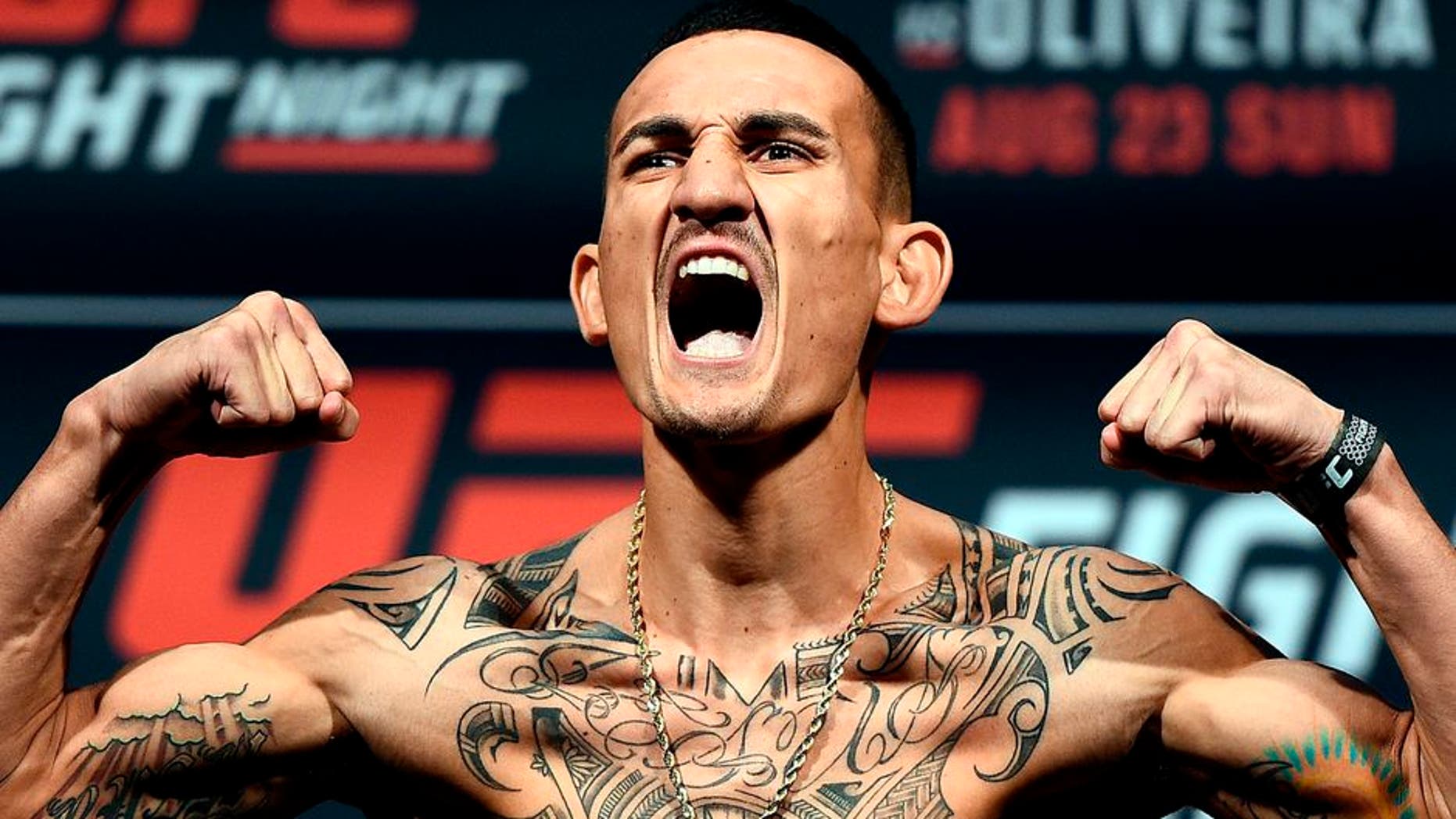 Despite a 10-fight win streak heading into UFC 212, interim featherweight champion Max Holloway has to go all the way back to his first victory to start that run to find the most important moment of his career thus far.
It's not because that win started his streak or due to the level of opponent he was facing at the time.
Holloway points to his win over Will Chope as the turning point in his career because going into that fight he had dropped two straight losses and was staring into the abyss of the unknown on whether or not he'd still have a job in the UFC afterwards.
"I was backed up in a corner. I had two L's, two back to back losses and usually when you get your third one, especially to a guy like him, hes a newcomer coming to the UFC," Holloway explained on the UFC 212 media conference call.
"If I was to lose that fight, I probably would have got my [pink] slips. Thank you for your service, come again. And I wasnt about that life. I know Im the greatest and like I said, Im not here to be average and I always want to stick out as a sore thumb. Thats what Im doing. Its just confidence."
That win put Holloway on the right track and he never looked back again.
With each fight, Holloway's confidence only continued to grow as he climbed the division rankings after starting his run outside the top 10. It was a true testament to his hard work and dedication because Holloway literally had to climb up from the bottom until he reached all the way to the top when he become the interim featherweight champion.
Now as he approaches his title unification bout with Jose Aldo on Saturday night in Brazil, Holloway knows beyond a shadow of a doubt that he earned this spot and no one is going to take it away from him now.
In fact, Holloway believes he can not only beat Aldo but he can dominate the longest reigning featherweight champion in UFC history.
"I know I can [dominate]. I know. Its not cockiness and everybody keeps saying oh, this kid is cocky. This is it. No, just because you dont believe in yourself, dont try to bring in negative energy around me. You keep your negative self away from me and Im going to keep my positive self with my circle of boys and people, and thats what were going to do," Holloway explained.
"We stay confident and I know Im the greatest. I tell myself Im the greatest and this is what you need to do. Im sure you guys dont wake up in the morning feeling like, hey, Im a level C MMA reporter. No, youve got to believe in yourself and believe that youre the greatest to ever do it and thats how I feel."
As huge as this moment will be for Holloway as he looks to become an undisputed champion for the first time in his UFC career, the 25-year old Hawaiian doesn't look at this fight as the pinnacle but instead only the beginning.
Holloway may already have a 10-fight win streak but he wants to make Aldo No. 11 and then continue to knock down every, single featherweight contender the UFC can throw at him.
"I want to be the best guy ever to do this," Holloway said. "When Im done, a long time from now and people still talking about my name as being the undisputed fighter in the world, not only of the featherweight; Its the gold, everything.
"I want to be like Demetrious Johnson, taking pictures with 11 belts. Or even like Joanna [Jedrzejczyk] with her five belts. Its cool. I want to be like these guys and just be dominant. I want to make sure theres no doubt that I was the best to ever do this."