Max Holloway vs. Jeremy Stephens verbally agreed for UFC 194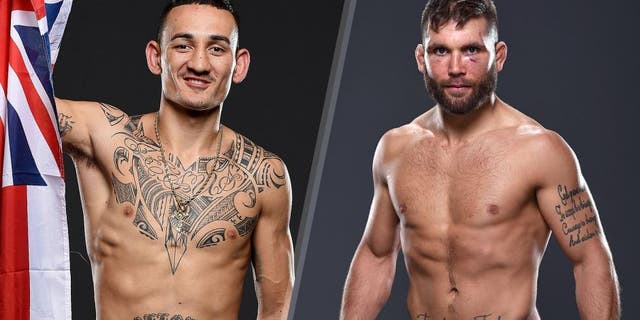 NEWYou can now listen to Fox News articles!
A key featherweight fight is expected to take place at UFC 194 as Max Holloway and Jeremy Stephens have agreed to meet on Dec. 12 in Las Vegas.
Multiple sources close to the matchup confirmed to FOX Sports that the fighters have verbally agreed to the bout at UFC 194. The UFC has yet to officially announce the fight but bout agreements will likely be issued in the coming days.
Holloway returns to action while currently riding a seven fight win streak in the featherweight division following his last win over Charles Oliveira in August.
The fight with Oliveira ended quickly in the first round after he suffered a neck injury. So Holloway is anxious to get back in action with another fight this year.
Stephens will look to pick up the biggest win of his featherweight career when he faces Holloway in December.
Stephens is fresh off a huge knockout over Dennis Bermudez at UFC 189 in July and now he looks to tackle a top-five fighter in the featherweight division in his next trip to the Octagon.
Holloway vs. Stephens is the latest addition to a growing UFC 194 fight card that will be headlined by the featherweight unification bout between Jose Aldo and Conor McGregor.
With Holloway vs. Stephens now taking place on the same card, as well as No. 2-ranked Frankie Edgar vs. No. 3-ranked Chad Mendes just 24 hours earlier at "The Ultimate Fighter" Finale, it appears to be a featherweight showcase weekend for the UFC.