Max Holloway: No title shot talk because Charles Oliveira has all my attention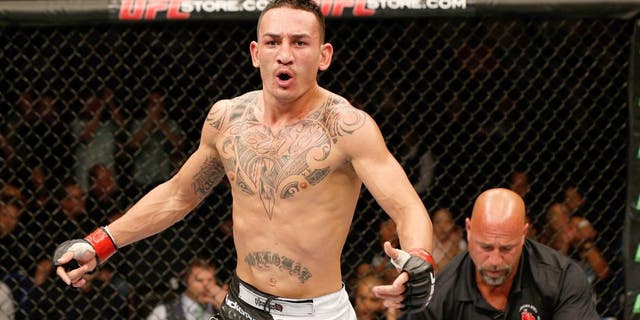 It's hard to talk about No. 5-ranked featherweight Max Holloway these days and not at least mention the possibility of a title shot looming in the near future.
The 23-year-old Hawaiian is riding a six-fight win streak, including his most recent victory where he dispatched Cub Swanson by third-round guillotine choke while earning a "Performance of the Night" bonus to boot.
This weekend Holloway gets matched up with No. 7-ranked Charles Oliveira in a five-round main event (Sunday, FOX Sports 1, 7 p.m. ET) in Saskatoon, Saskatchewan, where he will look for his seventh consecutive win, which would tie him with featherweight champion Jose Aldo for the longest streak in the division.
It just seems likely that everybody will be thinking about the championship heading into the main event -- except for one person: Max Holloway.
"I think about it all the time -- when I don't have an opponent," Holloway told FOX Sports when asked about fighting for the belt. "When I'm in camp, I never let my mind wander and think about what's next. Once I get a fight, my attention is on that guy. I don't care what the hell is going on in the division. I've got my mind on that one guy and that's the guy I have to beat. He's got to have all my attention.
"You see it too much from some guys -- they start looking ahead and then they slip up and now they're back at ground zero. I don't want to be that guy. I don't want to go around having to make excuses."
Holloway has essentially grown up in the Octagon after debuting on short notice in 2012 in a fight against Dustin Poirier at 20 years old. With each year that passes and the experience that gets added to his record, Holloway is just getting better and better and his recent wins are just more evidence of that.
He's aware that he's getting close to title contention, and Holloway would love nothing more than to challenge the winner of the UFC 194 main event between Jose Aldo and Conor McGregor. After all, Holloway isn't shy about saying he's ready for that opportunity.
But looking past an opponent is how many top fighters lost fights they were supposed to win. Holloway refuses to fall into that same trap.
"Confidence-wise, I'm there. Training-wise, I'm there. But me and my coaches are all about one step at a time," Holloway said. "It's cool when we hear about title contention, but I've got a guy in front of me that's trying to take all that away so he's got all my attention. I'm not thinking about after this fight, I'm thinking about right now. I'm in the present and not thinking about the future.
"We'll figure all that out after the fight. I just can't wait (to) go in there and have some fun."
The only thing Holloway is willing to concede when title talk comes up are the advantages he gains by facing Oliveira in a five-round main event fight this weekend.
Thanks to this matchup, Holloway is preparing for a five-round fight for the first time in more than four years, and the first time ever in the UFC. Thanks to this bout, Holloway now knows what it's like to be in the main event -- a spot he'd never occupied while fighting in the UFC.
So while Holloway may not want to talk about title shots, he's preparing for this fight like the semifinals in the playoffs -- and the championship is just around the corner.
"It's great to feel the five rounds, but not just to fight it, to train it. The fight is always easier, training is the hard part," Holloway said. "Now I know where my body should be and how I should feel leading into a fight like this. It's great. It's just more experience and time so when you get thrown in there for the title, you don't get all flabbergasted. I'm glad I have this fight before anything else.
"Because if I do get a title fight after this fight, now I know what to expect."
Don't miss a minute of Holloway vs. Oliveira on a special Sunday night fight card with our schedule and viewing guide