Maurizio Arrivabene: Ferrari still focused on chasing Mercedes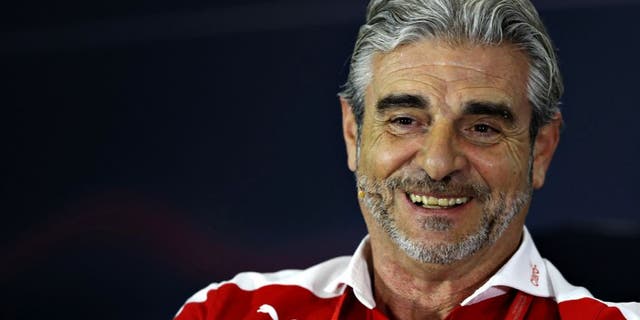 NEWYou can now listen to Fox News articles!
Ferrari team principal Maurizio Arrivabene insists that the team is still targeting pacesetters Mercedes rather than worrying about fending off Red Bull in the battle for second in the constructors' championship.
After Max Verstappen was promoted from third to second by Nico Rosberg's Silverstone penalty Ferrari has an advantage of just six points over RBR.
"The fact that Red Bull is performing very well is good for F1, it's good for competition, for the show," said Arrivabene. "I still think that our target is Mercedes, and not Red Bull."
"At this stage of the season if you want to say we give up, it's not absolutely correct. We need to be focused. In terms of problems, bad luck, and everything, we are already at the top in terms of points. I hope that this kind of points will go down and we'll start to get better. But saying we give up, not at all."
Arrivabene said there were obvious reasons why Ferrari struggled at Silverstone.
"It's easy. All of you know this is a track where aero performance is requested, and we pay our fees in that area. The other problem is related to the reliability of the gearbox, and this problem penalised a lot Sebastian. Also psychologically. When you see a champion like Sebastian that is driving not in the best condition, at the end of the story he's not a robot, he's a human being."
"Yesterday I was surprised when somebody was highlighting the reaction of Sebastian after the failure of the gearbox [in FP3]. But I mean, guys, we are not talking with robots, with computers, we are talking about human beings. For me it was absolutely normal. Thank God we had this reaction."
Regarding the gearbox issues he added: "It's the third time we've had this problem. It's a concern, it's something that needs to be solved as soon as possible."