Maurice Jones-Drew headlines UCLA 2017 Hall of Fame Class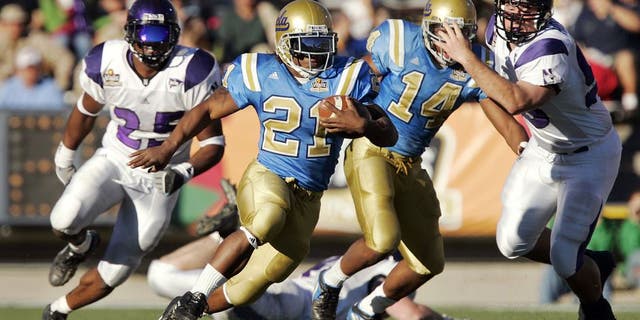 Another loaded class of former UCLA star student-athletes are headed to the UCLA Athletics Hall of Fame. .
The school announced the nine new members, headlined by UCLA star Maurice Jones-Drew, who will be honored at halftime of the UCLA-Oregon football game on Oct. 21.
The induction ceremony will take place on Oct. 20.
The class includes: Toby Bailey (mens basketball), Robin Beauregard (womens water polo), Monique Henderson (track & field), Maurice Jones-Drew (football), Bob Larsen (track & field/cross country coach), Kristen Maloney (gymnastics), Brandon Taliaferro (mens volleyball),and Gina Vecchione (softball). Additionally, Bobby Field will be inducted for his extraordinary service to the athletic department.
The grouphas a total 17 national championships between them as either a player or coach; three Olympians who combined for five medals (Beauregard, Henderson, Maloney); and a three-time Pro-Bowler (Jones-Drew).
Jones-Drewset school records in career and single-season all-purpose yards, touchdowns in a game, single-game rushing yards, and single-season punt returns for touchdowns. He also set a NCAA record that still stands with a punt return average of 28.5 yards in 2005 and went on to earn first-team All-America honors as an all-purpose back/kick returner.
Learn more about the inductees here.