Mauk suspension increases load on new Mizzou coach Odom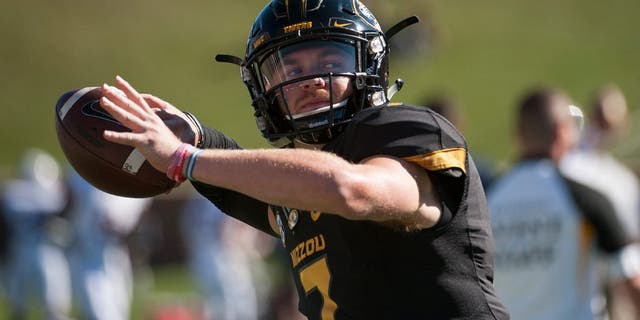 ST. LOUIS -- Missouri fell hard from the top of the SEC East in Gary Pinkel's final season, dropping to 5-7 and going through a player boycott that threatened a game.
Quarterback Maty Mauk's third suspension in four months shows that the turmoil has not subsided for successor Barry Odom.
Mauk was suspended indefinitely Monday night, not long after a video surfaced on Twitter. The nine-second video shows a person appearing to snort a white, powdery substance before giving out a whoop.
Athletic director Mack Rhodes and Odom said only that they were gathering information "regarding the video in question" and that "appropriate action" would be taken once they had the facts. There was no confirmation from the school, or anyone else, that the person in the video was Mauk or when the video might have been recorded.
Neither Odom, a head coach at the Division I level for the first time, nor Rhoades was made available for comment Tuesday.
The suspension comes a little more than a week ahead of national signing day. Thus far, there's been no sign it has affected recruiting for a staff reorganized when Odom was promoted from defensive coordinator in November.
Whether Mauk can rebound from his latest misstep or the offense remains in the hands of freshman Drew Lock, the Tigers have a long way to go. The program appeared thin across the board last season, with new starters at wide receiver, injuries hindering the tailbacks and the line springing leaks.
Pinkel resigned with one game to go while battling cancer, leaving as the school's winningest coach. He stepped down not long after backing a player boycott in support of concerns about racial strife on campus that had left a game against BYU in doubt. Odom reinstated Mauk on Dec. 23, saying he'd be in the mix for the quarterback job.
"I believe in guys having opportunities and chances," Odom said not long before the basketball game against Illinois in St. Louis. "I wanted to hear really what he wanted. Did he want to be here? Did he want to get his degree? Does he want to play football?"
Mauk was suspended for the balance of the season on Nov. 1 following an incident at a downtown bar not long after returning from a suspension on Sept. 29 for an undisclosed violation of team policy.
Mauk, whose father, Mike Mauk, is undergoing treatment for cancer, is 17-5 as the starter, including three starts last year when he totaled six touchdown passes. In 2014, he was sixth in the SEC in total offense and seventh in passing yards per game, throwing for 25 touchdowns, plus he was effective as the stand-in starter when James Franklin was injured in 2013.
Missouri's offense struggled with Mauk, and capsized without him even though Lock came highly touted out of Lee's Summit, Missouri. The Tigers scored in single digits five of the last seven games and Lock totaled four TD passes on the year.
Teammates suggested on Twitter that Mauk is "clean" and former receiver T.J. Moe came to Mauk's defense, responding to suggestions the video may be two years old.
"If this is what Mauk was suspended for the 1st time, how is it fair to reevaluate just because it's public knowledge?" Moe tweeted.