Matz thinks he won't miss next start after early exit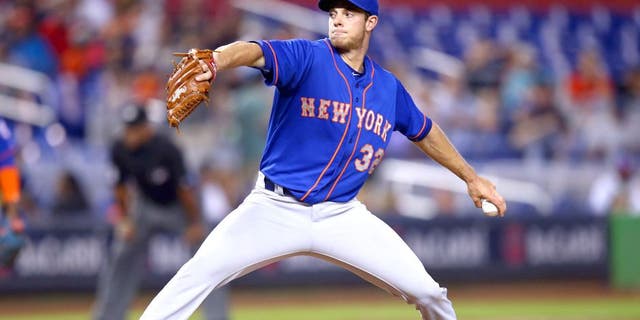 Steven Matz left early from his first start in two months for the New York Mets, but the rookie lefty is hopeful he won't be missing more starts any time soon.
Pitching for the first time since July 5 after dealing with a lat strain, Matz was forced to leave his start on Sunday in the sixth inning with a blister on the middle finger of his pitching hand.
The 24-year-old says he has experienced blisters before and is optimistic it won't keep him from missing his spot in the rotation next time around.
"I think we caught it before it got too bad," Matz said. "I used to get it a lot in 2013 when I pitched in Savannah and it was really humid. I guess the skin just softens up when it gets humid."
Apart from his bout with the blister on his hand, Matz reported feeling good after his first start in two months.
In 5 1/3 innings, he allowed four hits, two earned runs, and two walks while striking out six Marlins batters in the Mets' 4-3 loss in Miami on Sunday.
"I felt good," Matz said. "I was falling behind hitters a lot and made it difficult on myself and made a few mistakes, which ultimately cost us the game. I'll try to build off it."
(h/t ESPN)