Mattingly: 'We have our hands full' facing deGrom, Syndergaard & Harvey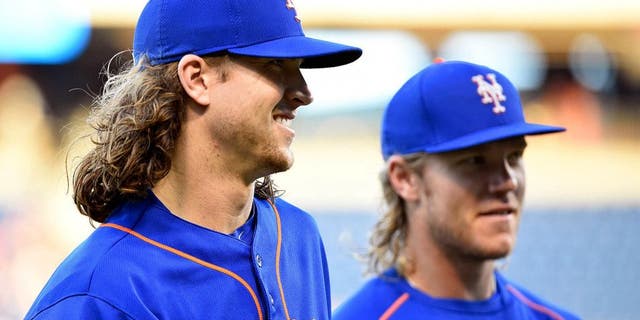 NEWYou can now listen to Fox News articles!
While Mets slugger Yoenis Cespedes may not be daunted by the Dodgers' aces, Los Angeles knows it will be challenged by the Mets' fleet of young, talented starters.
The Dodgers have two Cy Young candidates in Clayton Kershaw and Zack Greinke taking the mound in Games 1 and 2, respectively, but the Mets have their share of formidable starters as well in Jacob deGrom and Noah Syndergaard, who will begin the Mets' postseason run in succession, and Matt Harvey, who will be given the ball in Game 3.
"Those guys are really good," said Dodgers manager Don Mattingly said. "We've been looking at them for the last couple of days and even before that. … These are some power arms with secondary pitches. They aren't just guys going up there and chucking the fastball."
deGrom (14-8, 2.54 ERA), Syndergaard (9-7, 3.24 ERA), and Harvey (13-8, 2.71) ERA were the glue that kept the Mets from imploding in the first half of the season despite having the most anemic offense in baseball.
They combined for a 36-25 record on the season with a 2.80 ERA in a collective 83 starts this season.
What makes the trio unique, in Mattingly's view, is not the zip on their fastballs, but rather their complementary pitches.
"Everybody in the league now throws 96-97-98 [mph]. We see it all the time," said Mattingly, who has led the Dodgers to three consecutive postseasons for the first time in franchise history. "So, that's not what makes them different. It's the secondary stuff that makes them really good.
"They've got great arms and they're in a good position, not only now but for the future, with those type of arms. That's what you build your team around. So we know we have our hands full, but with that being said, we'll have a game plan for each guy."
While the Mets have an intimidating rotation to face, the Dodgers' is even more daunting, at least on the front end.
Kershaw and Greinke (35-10) have combined for nearly as many wins as the Mets trio, while tallying 60 percent fewer losses.
Their combined ERA: 1.90.