Matt Szczur returns to Chicago with Padres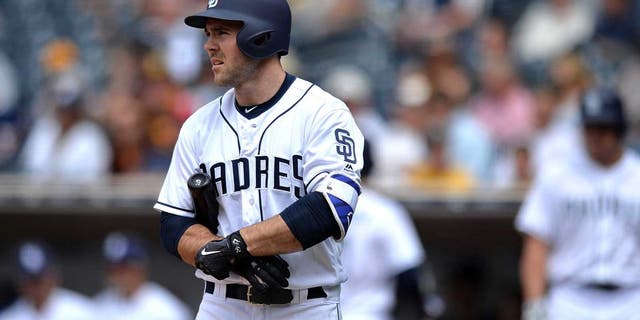 CHICAGO (AP) -- Matt Szczur was caught off guard when he was cut by the Chicago Cubs. He also was relieved.
Szczur was back in Chicago on Friday, playing center field and batting leadoff for the San Diego Padres in the opener of a weekend series against the White Sox. It's his third start in four games with San Diego after he played sparingly in the first part of the season with the Cubs.
"It was an easy transition for me," Szczur said. "All the guys are great, and it's been enjoyable so far."
Szczur was caught in a numbers crunch last weekend with the Cubs, who needed to fortify their bullpen after a rough stretch for their rotation. The 27-year-old Szczur, who played football and baseball at Villanova before he was selected by the Cubs in the fifth round of the 2010 amateur draft, was designated for assignment to make room for left-hander Rob Zastryzny.
There wasn't much playing time available for Szczur, but he was a popular figure in the clubhouse of the World Series champions for his positive approach.
It also was an opportunity for the Padres, who are missing injured outfielders Alex Dickerson and Travis Jankowski. They acquired Szczur from the Cubs for minor league right-hander Justin Hancock on Monday.
"He's blended in really well with the guys," San Diego manager Andy Green said. "I'm hoping that winning vibe that he was a part of rubs off on the guys here."
Szczur, who broke into the majors in 2014, was a key reserve last year when the Cubs won it all for the first time since 1908, hitting .259 with five homers and 24 RBIs in 107 games. But he knew he had to move on to get an opportunity for a more significant role.
"It was tough, because I knew where I was wasn't helping my career out," said Szczur, who tied a career high with three hits in his first start with San Diego. "So for me, it was a lot of weight lifted off my shoulders, to be honest with you."
Szczur said he exchanges text messages with his old teammates all the time, mentioning Anthony Rizzo, Kris Bryant, Jon Jay and Jason Heyward. He said he appreciates everything the Cubs did for him.
"Came up as a football player and a lot of the coaching staff and a lot of the coaches really helped me and helped me develop a swing, how to play in the outfield, just the knowledge of the game," he said. "I'll always have tremendous respect for everybody in the organization."