Matt Ryan personally funds offseason workout for 27 Falcons teammates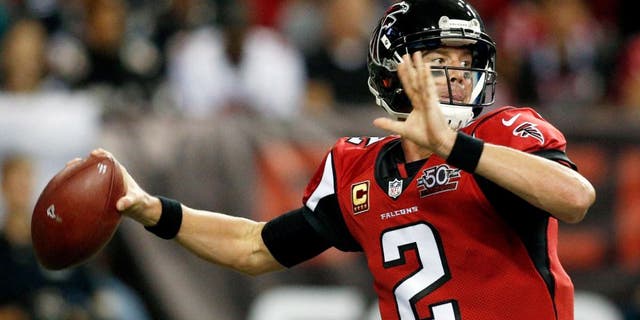 Thanks to quarterback Matt Ryan, the offseason program for 27 Atlanta Falcons players has gotten off to an early start. Ryan sponsored a voluntary three-day passing camp in South Florida this week that served as a precursor to the official beginning of Atlanta's workouts April 18. Following the final practice Thursday at St. Thomas Aquinas High School in Fort Lauderdale, Ryan spoke exclusively with FOXSports.com senior NFL writer Alex Marvez about how the camp came together, what he hoped to accomplish and the state of Atlanta's offense heading into his ninth NFL season.
Q: I know this passing camp was something first discussed last December. How did this ultimately get done?
Matt Ryan: I felt like it would be a good opportunity to get everybody together a little before we get started for our offseason program and just get away a little bit. Find a spot where guys can hang out, spend time together but also get on the field and get a little bit of work done and knock some of the rust off from the offseason.
I talked to some of the older guys about where we wanted to go and where they wanted to stay and got the ball rolling. It was one of those deals where you're thinking about something that could be fun and made it work."
Q: Having 27 guys involved makes this a lot bigger than the usual passing camps.
Ryan: I think it shows the type of guys we have in our locker room, good teammates that enjoy spending time together and are willing to work. It's a lot to ask somebody to take time away from their family or whatever they're doing this time of the year to spend time with their teammates.
Q: What were you able to get done the past three days?
Ryan: We wanted everybody here about noon on Tuesday. We hopped on a bus, came up to (St. Thomas) and worked out. We kind of dodged the rain so we ended up being in the gym throwing the football around and (using) the weight room. We had a team dinner on Tuesday night. We were back out here on the field Wednesday morning. We had good weather before the rain came down and threw for probably two hours. We got back on the bus, took the afternoon off -- I played golf -- and then had another team dinner last night. We had one more workout Thursday morning and guys are flying out.
Q: How did you coordinate all of this?
Ryan: I tried to lean on my wife and different people from the area on who they might know. And I called people. It took some time. I found out I'm not very good at it [laughs]. I'm better at my job than coordinating stuff. But it was worth it.
Q: Does all this come out of your pocket for expenses?
Ryan: Yeah, it does. I put it together. I'm not going to ask guys to go out of their pocket. For me, it was a great chance to get everybody together and give them a little fun for a couple days.
Q: Looking back at last season, the offense averaged 32.4 points a game during Atlanta's 5-0 start and 16.1 the rest of the year. What happened and how do you reflect upon the 2015 campaign?
Ryan: We made a lot of plays early in the season. When it got tough, we weren't able to make the two or three plays in the fourth quarter needed to change the outcome. In our six-game losing streak, the first three games we lost by a touchdown or less. That's the difference. When you're 8-8, you did some good things and some poor things. We've got to clean up the poor things and keep doing the good things we did."
Q: How do you think Atlanta's two big-free agent signings in (wide receiver) Mohamed Sanu and (center) Alex Mack will impact your offense?
Ryan: One of the things I was most excited about coming down here was having the chance to get to know Mo and throw to him on the field. He's got great hands. One of the things I noticed right from the start is how strong his hands are. He's a really good worker. I think he can really help us. And Alex Mack, I got to meet him a couple times and obviously he's one of the premier offensive linemen in the game. For us to add that at our center position, it's such an important part of an offensive line to have that centerpiece and get everyone on the same page. I think the leadership he's going to bring and level of preparation is going to help the other guys. That's one thing in talking to him I know he's fanatical about. He's going to be a really, really good influence on our guys up front.
Q: How much easier is it for you this offseason not having to learn a new offense like you did with coordinator Kyle Shanahan's system in 2015?
Ryan: One hundred percent. It's just different. When you've been in the same system for seven years, you go on autopilot when you're on the field. When it changes, there's a lot of work that goes into it. Learning things, seeing things a little bit differently than what we had terminology-wise, speaking the same language. ... I think we're at a place where we're really headed in the right direction. I thought we made strides as the year went on. But for me, even for this trip, to be able to talk in the language we're going to use. ... Last year, it was like, "Guys, I don't know what we're going to call this. Here's what I want you to run." That part of it I think is really nice.
Q: How tough was it to say goodbye to Roddy White this offseason, and what do you think is next for him?
Ryan: Roddy is a tremendous competitor. Obviously, he's one of the best players I ever played with and has had a bigger impact on my career really than anybody I've played with because we were together for so long. It's tough. That part of it sucks. It's not fun because he's a friend, a great teammate, a great leader in our locker room and an unbelievable competitor. You know all the things that you're losing. We all understand that's part of how it goes in this league. I think somebody is going to pick him up and he's going to continue to play at a high level.
Q: Finally, Jonathan Babineaux and you are now the longest-tenured Falcons players on the roster. What is the state of Matt Ryan at the age of 30?
Ryan: I think I'm just hitting my stride. I feel like I'm in the best shape of my life at 30. I feel like I've learned so much about myself, my body, my game from the last eight years. I feel like that experience is going to serve me well in my 30s. I feel like I'm throwing it better than I ever have, I'm stronger than I've ever been. My best ball is still in front of me.