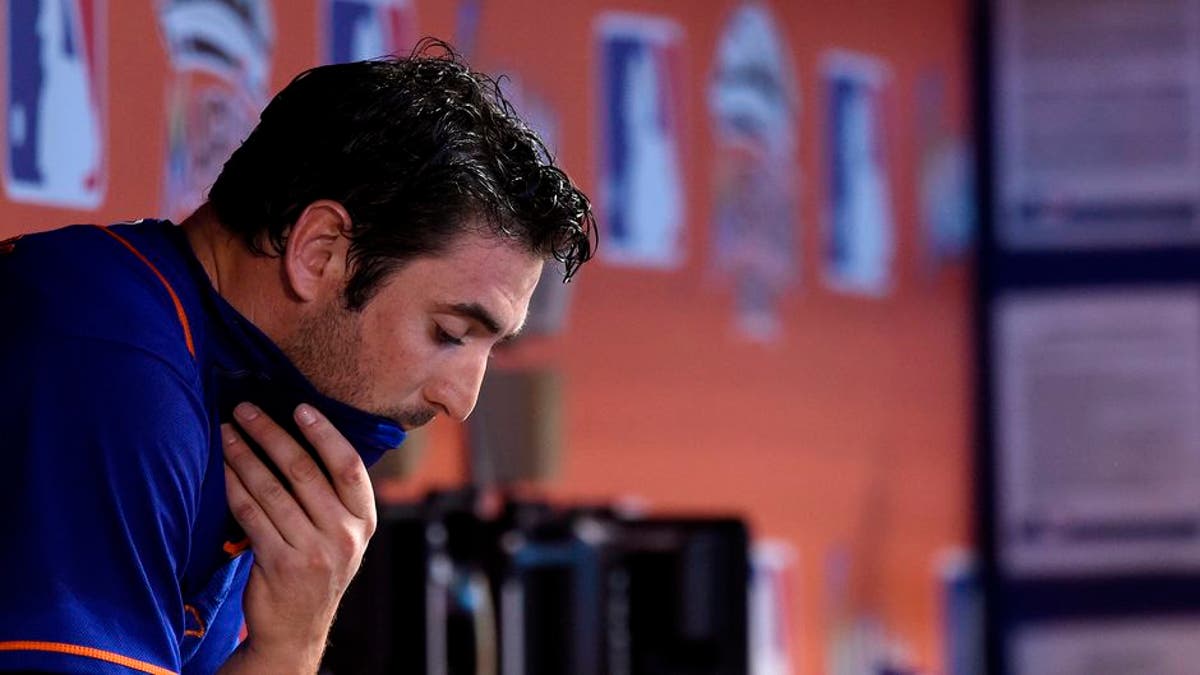 Billy Martin once said of Reggie Jackson and George Steinbrenner, Ones a born liar and the others convicted.
With apologies to Martin, the Mets latest shenanigans can be summed up thusly:
Noah Syndergaard wont take an MRI and Matt Harvey wont show up.
Heres a bit of advice for Harvey, not that he listens to anyone while acting like he thinks Matt Harvey should act and forgetting to pitch how Matt Harvey should pitch:
Do not file a grievance and challenge your three-game suspension without pay, as sources suggested you would to Jon Heyman of FanRag Sports,
No, show up at Citi Field on Tuesday thats right, show up -- and apologize to your teammates, manager Terry Collins and his coaches.
Charley Gallay/Getty Images for Victoria's Secr
Then, start acting like you mean it. Show up. Grow up. And remember why you became famous in the place by striking out Bryce Harper, not dating Adriana Lima.
Can you imagine what accomplished veterans such as Clayton Kershaw or Max Scherzer think of the latest adventures of Harvey and Syndergaard, who tore his right lat last Sunday just three days after balking at the teams request to undergo an MRI for a biceps issue?
Harvey and Syndergaard are not nearly in the class of Kershaw and Scherzer, but you wouldnt know it from their conduct Syndergaard, at one point during his MRI controversy, openly berated Mets longtime PR man Jay Horwitz for failing to protect him from reporters who attempted to question him about his status.
Professionalism, anyone?
In fairness, the reasons for Harveys failure to show at Citi Field on Saturday are not yet clear; the Mets suspended him for a violation of club rules and declined to even confirm his absence, which I reported Sunday, citing sources.
A source close to Harvey said he had a migraine and cited a possible miscommunication with the club. The Mets evidently saw it differently by suspending Harvey and summoning Adam Wilk from Triple A Las Vegas as his last-minute substitute Sunday, they all but punted their game against the Marlins, losing, 7-0.
Suspending Harvey for three games while awaiting the returns of three other starting pitchers on the disabled list including Syndergaard, who will not throw for at least six weeks surely is not a decision the Mets made lightly.
Harvey, though, did not respond to initial texts from club officials seeking to find him on Saturday and did not reach out to them until after he was supposed to be at the park, sources said.
Im not a doctor, but Im guessing Harvey could have sent a simple text even if he was suffering from a migraine. Im also guessing the Mets would have been more forgiving if this had been a first-time offense.

Ah, but lets go back to 2015, when Harvey missed a mandatory team workout before the start of the postseason.
The last thing I ever want to do is not be here with my team, Harvey said then. Basically, theres no excuse. I screwed up. I wasnt here. I showed up a little late.
Harvey added, I told everybody and apologized to everybody and told them it was not going to happen again.
A-hem.
The incident in 15 and the one over the weekend are Harveys known transgressions. Is it possible that there are others? Of course. Harvey is not a pitcher who draws raves for his commitment and preparation.
Once more, consider the context: A three-game suspension for Harvey at a time when the Mets had won six of eight to climb within a game of .500 speaks to how infuriated club officials must have been.
Not that Harvey was exactly wowing em his ERA in six starts since returning from thoracic-outlet surgery is 5.14 (though he gets a mulligan for his most recent start, which occurred on late notice, one day after a heavy workout, after the Mets scratched Syndergaard).
The Mets are not blameless in all this among other things, they routinely give off the vibe that the inmates are running the asylum. Then again, what exactly are Collins, general manager Sandy Alderson and even the teams veteran leaders supposed to do? Harvey, 28, and Syndergaard, 24, are grown men.
Im tempted to say that the Mets need a Kershaw, Scherzer or Jon Lester to set an example for the younger pitchers, but Jacob deGrom sure doesnt seem to need the help.

The roster is full of pros such as Curtis Granderson, Asdrubal Cabrera, Neil Walker and Jay Bruce. The injured David Wright, one of the games great statesmen, is a daily presence around the club. Think he hasnt talked to Harvey?
Lots of people have. And if a three-game suspension isnt a wakeup call, then Harvey is too distracted to hear the alarm.