Matt Flynn reflects on his journey from national champion to NFL nomad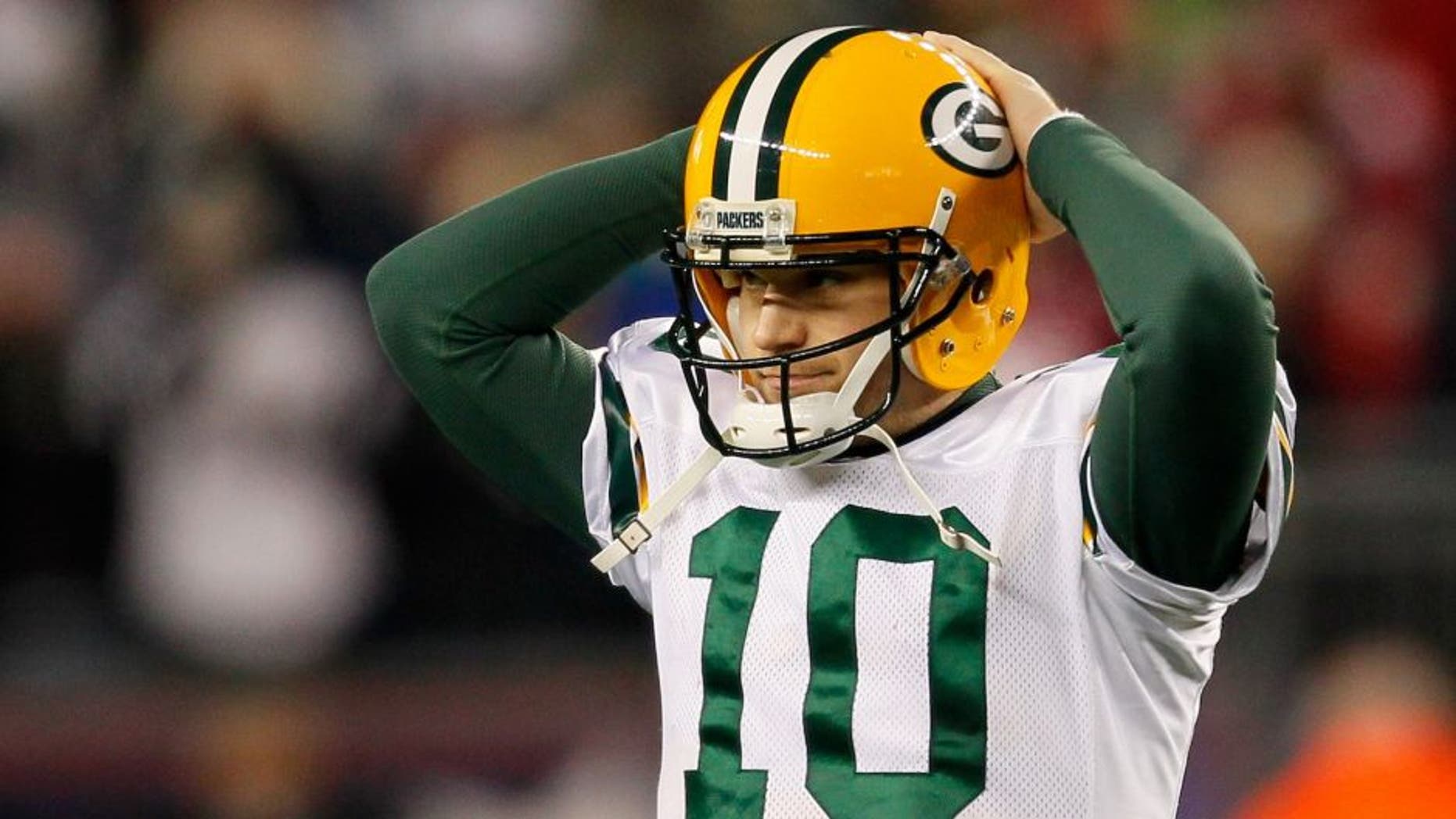 Players deal with different adversity, injuries and hardships, mixed in with some achievements, too. Yet, it's impossible to quantify success as every player takes a different path to play at the highest level. For Matt Flynn, the trail was littered with hurdles, changes and uncertainty.
"I don't think there's been a dull moment in my career," Flynn told FOX Sports recently.
Flynn entered the NFL in 2008 as a seventh-round pick of the Green Bay Packers out of LSU. He wasn't highly touted, but he was a winner. In four years with the Tigers, Flynn won two National Championships -- one in his first year, and another in his last. The first title came alongside future No. 1 overall pick, JaMarcus Russell.
"I came in to LSU in 2003 from Texas and got recruited and signed in the same class as JaMarcus Russell," Flynn said. "We won a national championship in 2003 as redshirts -- running the scout team and doing some dummy signals on the sidelines. After that season, I was behind JaMarcus for most of my career.
"I even considered transferring a couple of times," he said. "I didn't have any school in mind, but my junior year I was taking extra classes to transfer."
Flynn never left Baton Route, and it's a good thing. Although he to sat behind Russell for a couple of seasons, Flynn flourished when given his chance.
"In 2005, I started my first game in the Peach Bowl when JaMarcus was injured. I had a really good game and my confidence level skyrocketed," Flynn said.
LSU, led by Flynn, dominated Miami, beating the Hurricanes 40-3. It was not only a big win by the Tigers, but it helped Flynn's confidence even more.
"After that I thought, 'Alright, I'm not gonna transfer. I can beat JaMarcus out next year.' That ended up not happening for me."
There was obviously competition between Flynn and Russell at LSU, but there were no hard feelings at all. Russell made Flynn one of the first people he told about his intention to enter the 2007 draft.
"He told me a week before he declared that he was coming out for the draft," Flynn said. "He looked at me and said, 'You're the first person I'm telling after my family that I'm going to the NFL.' I've always respected JaMarcus for telling me like that."
Russell's departure gave way to Flynn as the starter. Flynn led LSU to a national title, bringing his collegiate career full circle -- bookend championships. It's hard to imagine a better way to begin and end a run at a powerhouse school like LSU, which is why the last one felt so special for Flynn.
"Going out on top, it's hard to explain in words what it meant to me," he said. "After what I went through in my career. I never wanted to leave, I loved LSU. So the perseverance definitely paid off in that regard. It's really indescribable what that means to me even now. But, right after that, things were happening so fast."
It quickly became draft season.
Flynn was a proven leader in college, displaying the ability to win big games, too.That doesn't always translate to the NFL. For Flynn, that was exactly the case. Interest leading up to the draft was thin.
"You hear all these rumors like, 'You can be a third-to-fifth-round pick. You can be an undrafted type of guy.' So I didn't really know where I would end up," Flynn said. "I knew I had some decent tape, but I was also hobbled for most of the year with a high-ankle sprain and a sprained AC joint.
"No teams brought me in for visits after the [East-West Shrine Game]. I had a good pro day. One coach had me throw and took me out for lunch. It wasn't these big fancy trips where guys get flown up to team headquarters or anything. But I was hopeful during the draft, and believed I was the best quarterback available."
Flynn waited before eventually being selected 209th overall. The Packers took a chance on Flynn, but he wasn't thrilled with heading north to Green Bay. In fact, it's one of the last places he wanted to go.
"I grew up in Texas, went to school in Louisiana. I was a hot-weather guy," Flynn said. "Before the draft, I said, 'OK, I don't really want to go to Green Bay or Buffalo.' I remember seeing Brian Brohm got drafted by the Packers so I said, 'All right! Yes! Green Bay's off the board!'
"But it was really a dream come true. When they called, I was surprised, but ecstatic at the same time. It was a little bit of a relief."
Flynn wasn't expected to be the starter. It was Aaron Rodgers' turn to take over for the constantly undecided Brett Favre, who created an "absolute circus" with his retirement debate, Flynn said.
Flynn' was fine sitting behind Rodgers and learning until he got his chance.
"I knew I wasn't ready, so I sat and watched Aaron practice and prepare, and watch him grow from a new starter to the player he is today," Flynn said. "There's no question I got better from watching Aaron Rodgers -- having competitions and trying to emulate things he did. It was an absolute blessing that I was drafted by Green Bay where I was able to sit back and watch behind a great mentor and grow as a quarterback."
Flynn didn't start a single game until Week 15 of the 2010 season when he filled in for the injured Rodgers -- the same season in which the Packers won a Super Bowl with him as the backup. His next start came in 2011, again for an injured Rodgers. Those two games were the only starts he made in Green Bay. They were also two of the most important games Flynn played, particularly the last one.
It was against the Detroit Lions in Week 17 of the 2011 season. Flynn, with the Packers sitting at 14-1, put up 480 yards and six touchdown passes, both franchise records. What made the 45-41 shootout victory better is the fact that Rodgers was calling plays for Flynn.
"It was a pivotal game for my career. I hadn't played any meaningful football since college," Flynn said. "That was the last regular-season game of my contract. The wind was blowing so hard it was blowing the tarp off the field.
"Aaron was calling the plays that game, which was awesome and a ton of fun. He was telling jokes and making me laugh when I was in the huddle and whatnot. I threw my fifth touchdown of the game and he looked at me and gave me one of those looks. Then he said you gotta go for six if you can."
Flynn got No. 6, which resulted in Rodgers jumping on his back in excitement, celebrating the feat. The duo would spend one more game together during Flynn's first stint in Green Bay.
His contract expired in the offseason and it was time to test free agency after putting up the greatest passing performance in Packers history. The timing couldn't have been better, but it also left Flynn confused about the kind of money he would get on the open market. He had no idea.
Fortunately, two teams came calling: the Seattle Seahawks and Miami Dolphins. After visiting the Seahawks, Flynn took a redeye to Miami where he'd meet with the Dolphins' new head coach and his former offensive coordinator, Joe Philbin.
Neither team offered him a deal, but the silence didn't last long.
"The next day I got offers from both teams," he said. "It was a no-brainer with Seattle, given the years and the situation. There was no way I was going to get that contract in Green Bay. I thought I could be a starter and had the skill set and knowledge."
Flynn never made a start in Seattle because the Seahawks drafted someone named Russell Wilson. And after one year, he asked for a trade, which the Seahawks front office granted him.
Oakland was Flynn's next stop, but it was a low point in his career.
"I was not healthy in Oakland," Flynn said. "I had gotten some elbow tendinitis in Seattle. We lived in Pensacola, Fla., after the Seattle stint getting treatment and trying to rehab it, but it just was not strong. I went to Oakland with a not healthy throwing arm. The whole Oakland stop for me and my wife was just not a good one."
The Raiders cut ties with Flynn early in the season, which brought him to Buffalo.
"[Oakland] released me after Week 4 or 5," he said. "That week, I got a call from Buffalo when EJ Manuel got hurt. I had to fly to Oakland from Baton Rouge to pack and move out. My wife had to drive from Oakland to Baton Rouge, then fly to Buffalo after that."
Flynn signed with the Bills after a workout, which led to another brief stay. He was cut for the second time in 2013.
On the Monday Flynn was released, he went out with his offensive line.
"Me and my offensive linemen were eating dinner and we were watching Green Bay play Chicago on Monday Night Football. And Aaron breaks his collarbone. I just thought to myself, 'That could be a real opportunity.'"
It was. Flynn signed after working out for the Packers, and regained "that joy of playing football" that he lost during his rough patch. With another contract, came another move.
The number of places Flynn lived in those two years is staggering. He was all over the map, quite literally.
"In a span of two years, my wife and I lived in 11 different spots -- either an apartment or a condo or a house. And we had to drive everywhere too because we had bulldogs so that was kind of crazy."
The places that he called home ranged from a house in Baton Rouge to a garage apartment in Seattle to a Hilton hotel room at the Oakland airport to a cottage in Buffalo, with others in-between.
The most eventful offseason of Flynn's career -- in the sense of being a "workout warrior," so to speak -- was before the 2015 season. No longer a Packer, Flynn generated a lot of interest from quarterback-needy teams. It began in June when he signed with the Patriots. A hamstring injury derailed his stint in New England, with the team releasing him after two months.
Back to Baton Rouge he went. And that's when the biggest haymaker of the offseason was landed.
"The Jets called me because Geno Smith just got punched in the face," Flynn said. "So I went up there and they said, 'Rehab for us, and if you can play in the last game for us that's great. We just need you here until Geno gets back.' I played the last preseason game and played well but they ended up releasing me, which was a surprise. I was kind of ticked about it."
Not long thereafter, Flynn's first son was born. In turn, he spent more time back home in Louisiana. His "time off" wasn't lengthy, and that's because his favorite childhood team came calling.
"The Cowboys brought me and three other quarterbacks to train," he said. "I was there all day long, just waiting around. And after sitting around, they said, 'We just had a trade go through so we're going to send you back to Baton Rouge."
Flynn eventually signed with the Saints in November after going through a workout, where he spent the rest of the season. Now, Flynn's a free agent spending his days at home in Louisiana -- hunting, fishing, staying in shape and hanging out with his seven-month old son. Flynn also opened up his own business called Hydrology, which matches athletes' DNA to their sports drinks and electrolyte replacements using medical-grade sweat testing.
Flynn has also been much more active on social media. It goes back to his tweet-turned-tradition when he shared a picture of a Bloody Mary after being cut by the Jets.
He did the same after working out for the Cowboys.
"That was awesome," Flynn said, laughing. "I wasn't a social media guy until this past August. I sent that out and I loved all the responses. It was hilarious. So when I left Dallas, I said, 'I guess I gotta do it again.' I have to make it a tradition where every time I get cut or don't make a team I have to send a drink out."
Those two photos weren't the only tweets that garnered attention. More than 4,300 people retweeted this post, which was met with both undeserved criticism and laughs from his followers.
"I got a lot of responses," he said. "I knew exactly what I was doing with that tweet. It was definitely a [sarcastic] tweet. I'm obviously super happy for Brock, too. I just wanted to see what would happen if I sent it. I sat there and watched all the responses. Some people were mad, some people laughed at me, some called me an idiot. It was funny, stepping on an ant bed and watching everyone's reactions."
Although he has yet to land with a team this offseason, Flynn hopes to catch on in the same way he did last year. When an opportunity knocks, he'll be there to answer. And if not, he has no regrets.
"I wouldn't take anything back that I've done in my NFL career. It's been so much fun," he said. "I've had eight years in the NFL now -- six in Green Bay. My time there was special. I'm just thankful for everyone that's given me an opportunity. I've had a blast in the NFL. I'm a stronger person from all the traveling and ups and downs with everything. Hopefully it keeps going, but you never know if it will."
If and when the time comes, Flynn could likely sign his next contract with his eyes closed, seeing as he's signed on the dotted line seven times, excluding restructures.
"I think I could be an agent now," he joked.