Matt Crafton and Brad Keselowski tangle at Pocono, have confrontation in garage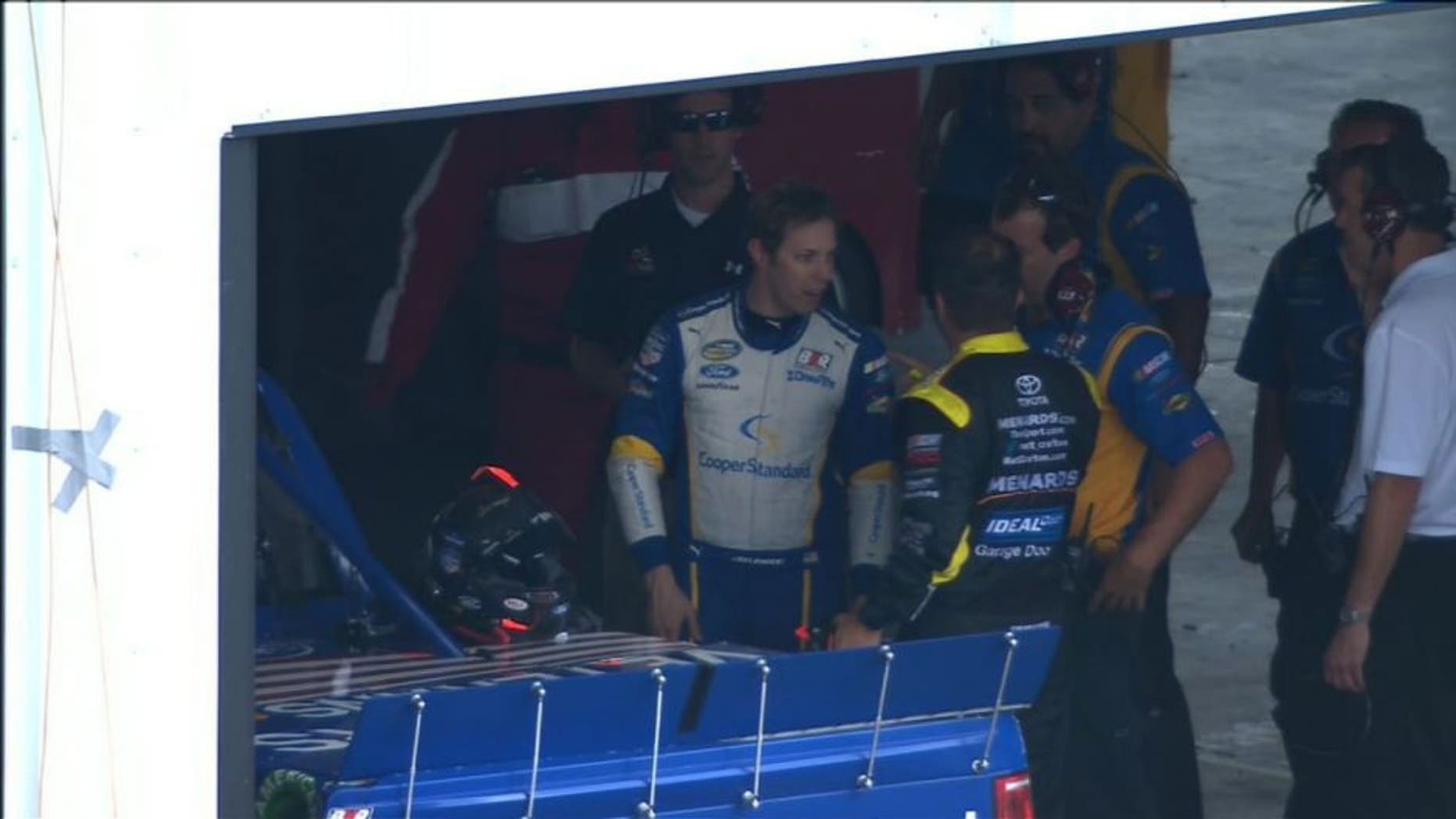 Saturday's NASCAR Camping World Truck Series race at Pocono Raceway was shaping up as a battle between the Sprint Cup ringers and truck series regulars. Expected to battle hard throughout the 60-lap event, it did not take long for fireworks to erupt on the track and in the garage.
While Erik Jones was able to get the lead on the initial start of the race, the fight for second through fifth was intense between Kyle Busch, Austin Dillon, Matt Crafton, Brad Keselowski and Kevin Harvick.
Racing hard out of the Tunnel Turn on the fifth lap of the race, Harvick made a bold three-wide move to the bottom of Crafton and Keselowski to take the fourth spot. As Harvick made his move, Crafton's right rear made contact with Keselowski's left front, sending both trucks hard into the outside wall to bring out the first caution of the race.
Both drivers took their heavily damaged trucks directly to the garage area, where Crafton climbed from his truck and stormed over to Keselowski's garage stall.
Entering Saturday's race with a 14-point advantage in the series standings over Brad Keselowski Racing's Tyler Reddick, Crafton was none too happy with the Sprint Cup Series regular.
"The idiot hooked me in the right rear, that's all there was to it getting into Turn 3," said a frustrated Crafton. "I guess that's maybe how he wants to win a championship with that 19 truck (Reddick). He's got another thing coming. I promise you that truck won't win it. If that's how he wants to do it, we'll get it done."
Keselowski chalked it up to hard racing early in the event, and said he would never wreck someone on purpose.
"Something happened where we obviously made contact," Keselowski told FOX Sports 1. "I'm not entirely sure. The 33 (Dillon) had just passed me entering Turn 2 and the 88 (Crafton) got a good run to pass me. We were entering Turn 3 and I head my spotter say the 00 was going to make it three-wide and next thing I knew -- it looks like he went straight into the corner is what it looks like --" next thing I knew we made contact. I was trying to get in line behind him. The last thing I want to do is wreck the point leader or any of these regular guys and mess up my day as well.
"These trucks are expensive and it's going to cost a lot to fix," he said. "I feel bad for Matt and his team, but I don't really know what to do differently."
As far as Crafton's claims, Keselowski brushed them off by saying he is not that kind of driver.
"I have no interest in coming to the Truck Series and wrecking someone on purpose," said Keselowski. "Tyler Reddick is doing a good job, but he has a ways to go to run with Matt. Matt's an awesome driver and that's a great team. The last thing I want to do is go out and wreck them. I want my team to earn it if they are to run up front. I have no interest in going out and wrecking someone intentionally and that's not what happened."
While Keselowski was officially done for the day, Crafton's ThorSport Racing team was thrashing to get the truck back on track. With Crafton behind the wall, Reddick was able to take the lead in the series standings for the time being. Crafton was able to return to the track with 13 laps to go.