Matt Brown: There's a fundamental flaw in Ronda Rousey's psychology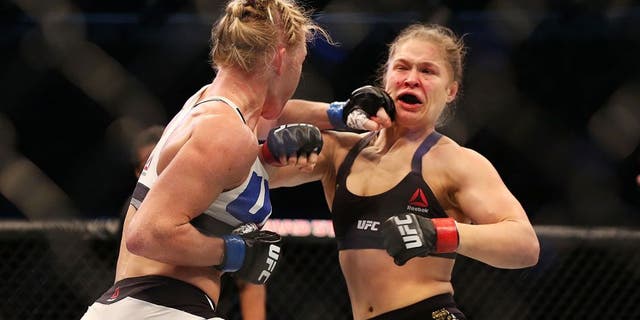 Ronda Rousey has been in the headlines all week after stating in an interview that she contemplated killing herself in the moments just after losing to Holly Holm at UFC 193 last November.
There have been a number of opinions expressed on the matter, but top 10-ranked welterweight Matt Brown said on the latest "Great MMA Debate" podcast that for all the flack that Rousey's getting for making what seems to be a shocking revelation isn't actually all that uncommon for fighters.
"She's just one of a million to feel that way. Every athlete that loses feels that exact same thing. She's not special in that regard," Brown said on the show.
"A day or two later, I can see her saying I felt suicidal or whatever. That's not an uncommon feeling. I've felt that same way before. I lost three in a row and had newborn babies and didn't know when I was going to get another paycheck, thought I was going to be cut from the UFC. I felt the exact same feelings before."
The difference where Brown falls off the wagon to support Rousey is the fact that she said these statements nearly four months after losing to Holm.
Brown believes that Rousey still hasn't actually accepted the defeat because nowhere during her interview did her sadness turn to anger or determination with a focus on going back and beating Holm in the rematch.
Obviously, Rousey said that she was going to fight Holm a second time, but he didn't hear her pay any credit to the current champion for the win nor did she sound all that excited about doing it over again.
"It's a fundamental flaw in her psychology," Brown explained. "It's Day One s--t. I don't claim to be the best fighter, but I guarantee I have put in as much time if not the most time of any fighter you've ever met, I guarantee I put in as much if not more time on the mental side of this game, the psychology, the mental training. I'm constantly reading about it. I've probably talked to 20 different sports psychologists in my life.
"You had four months to deal with this. By now the lesson should be learned and you should be moving forward and I didn't hear that."
Brown also speaks to the example Rousey sets for the sport while appearing on nationally syndicated talk shows like "The Ellen Show" where millions of people are watching from around the world who may not be hardcore mixed martial arts fans.
Brown clearly understands the emotions Rousey felt after her loss, but he also says there's a way to express that while still being an example to kids as well as paying homage to your opponent for a job well done.
"Maybe she needed to do that. I could definitely be wrong in this. Maybe she just needed to go out and let it out a little bit," Brown said. "For me, I'd rather her as a representative for our sport, as a role model for young children, as someone that's representing our sport in front of millions of housewives who probably don't know anything about our sport, to go out there and talk nobly and honorably like a warrior. Give Holly her credit, accept what happened and talk about how she's going to move forward and do better. That's not what I got."
To hear the rest of the debate about Rousey's comments as well as a tribute to former UFC heavyweight champion Kevin Randleman, listen to the latest Great MMA Debate podcast via Soundcloud or download and subscribe to the show via iTunes.