Match official collapses during Bournemouth-Southampton game, taken to hospital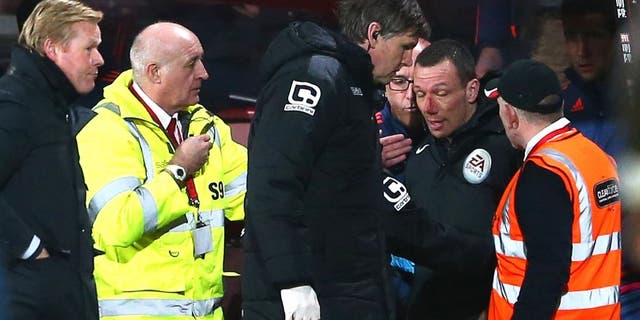 A match official was taken to hospital after collapsing and banging his face on a dugout during an English Premier League game on Tuesday.
Kevin Friend, who was the fourth official for Bournemouth vs. Southampton, was treated at the side of the field after collapsing near the end of the first half.
Friend was taken to hospital for further attention and non-league referee Dean Treleaven - a spectator in the crowd - was pressed into service as a replacement fourth official. The second half was delayed by five minutes.
Southampton manager Ronald Koeman said ''he came to us and he fell against the dugout, with his nose, and then fell to the ground ... for maybe five seconds, he was out of everything.''
Bournemouth won the game 2-0.