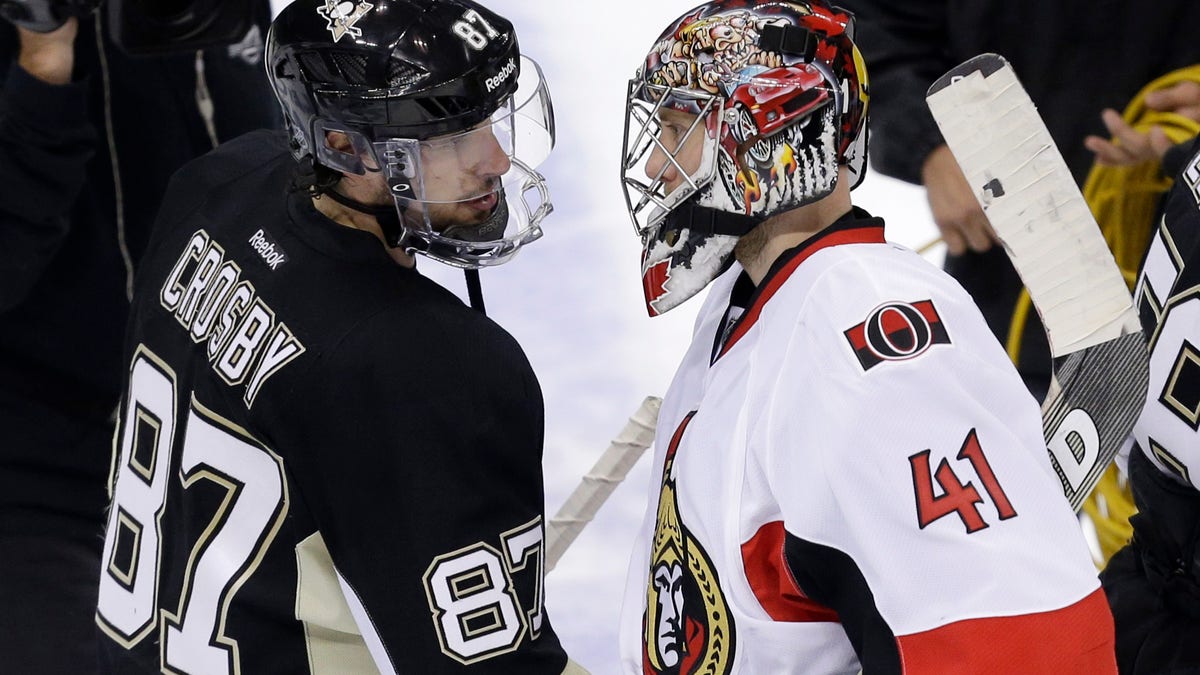 PITTSBURGH – Cleared to play without a plastic apparatus protecting his lower face for the first time since returning from a broken jaw, Sidney Crosby said he'll need a few days to adjust.
It appears he'll get just that.
Crosby wore a traditional helmet with no mouth or jaw protection during the Pittsburgh Penguins' practice Sunday. Like his teammates, Crosby figures to have at least a couple more practices before he plays in a game.
The schedule for the Eastern Conference finals against the Boston Bruins has yet to be released. The Penguins ultimately will end up with four or more off days after wrapping their series with the Ottawa Senators on Friday night.
After playing a compacted schedule during the lockout-shortened regular season in which off days were scarce, the Penguins strive to make the most of their preparation time in advance of their first appearance in the conference finals since 2009.
"You use the rest to your advantage," Crosby said after practice Sunday. "If we had to start tomorrow, I think we'd be ready and be OK. But in the playoffs you can never have too much rest and preparation before the series starts. So we'll make the most of it."
Just twice since the season began Jan. 19 have the Penguins had more than a two-day layoff between games — April 14-16 during the regular season and April 28-30 just prior to the start of the playoffs. Pittsburgh played 11 times in 24 days in winning in the first two postseason rounds.
Coach Dan Bylsma said he "doesn't have any clue" when the series against the Bruins would start. The NHL traditionally has tended to wait until all of the previous round's series are complete before announcing the schedule for a subsequent round. While the teams in the Eastern Conference finals are set, both second-round series in the Western Conference are heading into Game 6s Sunday and Monday.
"We have schedules, we have plans, but I wish I could tell you this is exactly what we're going to do because we know we're going to start on (for example) Wednesday," Bylsma said.
"We'll go through our preparation and our scout as we normally would for this week — that's not going to change. The schedule for what we get out of practice and how much practice we do, that as might change as we get a better idea."
Bylsma said he will avoid giving the team two consecutive days off the ice. It wasn't until mid-afternoon Sunday he decided the team would practice Monday.
"But staying sharp and staying focused is part of our plans for practice this week and what we do in practice regardless," Bylsma said. "Even today, we wanted to keep that focus and that sharpness in our practice and not just go out for a skatearound."
Wings James Neal and Chris Kunitz were absent from Sunday's practice. As per his playoff policy, Bylsma did not discuss the reasons why. Neal is coming off a hat trick Friday but missed two first-round games because of a lower-body injury. Kunitz has had limited ice time the past two games due to an undisclosed injury.
Crosby missed the final 12 games of the regular season and the playoff opener as he recovered from jaw, mouth and dental injuries sustained when a puck deflected up into him during a March 30 game. He has worn a facemask throughout the 10 games he's played since.
The mask he wore against the Senators in the conference semifinals was smaller than the one he used against the New York Islanders in the first round. Over the weekend, medical personnel cleared him to play without any auxiliary protection going forward.
"He's obviously progressed, and his time period away from the injury has allowed him to even think about doing that," Bylsma said.
Crosby said he could breathe and see the ice better without the extra mask but that he needed some time to adjust after growing accustomed to wearing it over the past three weeks.
"It's pretty typical that it might take a few days before I'll be sticking my head in front of the net as much as maybe I would with a full face on, but after a few practices it should kind of feel back to normal," Crosby said.
Multiple Penguins players said they used Sunday's practice to get back in the swing of the playoffs following a day off Saturday and that Monday's practice would be more of a nuts-and-bolts preparation for the Bruins.
Although eager to get started and curious as to what the schedule will be, the Penguins sounded content in being able to adapt to whenever they're told to play next.
"You can't really control it, so whatever happens, we'll adjust," defenseman Matt Niskanen said. "If you get rest, you've got to take advantage of it and rest your body. Just have that balance of putting the work in when you have practice and take care of yourself. Hopefully heal up a few bumps and bruises guys have and get rested up because it's going to be a tough series coming ahead."