Marvin Jones will offer no hometown discount for the Bengals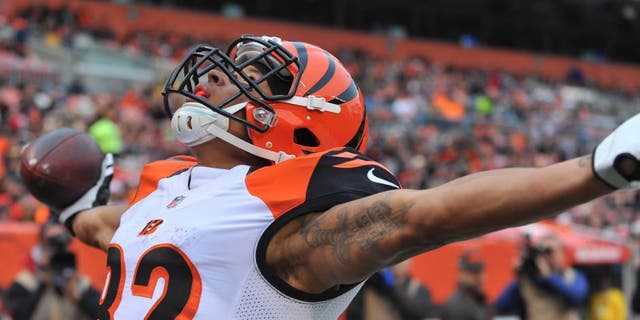 NEWYou can now listen to Fox News articles!
Cincinnati Bengals wide receiver Marvin Jones is an impending free agent, and he made it clear that he fully plans to test the waters in free agency.
Although he hasn't ruled out re-signing with the team that drafted him in the fifth round of the 2012 NFL Draft, Jones is excited to experience the NFL's free agency process for the first time in his career.
Jones missed the entire 2014 season with a foot injury, but he returned in 2015 to play all 16 games and finish with 65 receptions, 816 yards and four touchdowns. In the two seasons combined (2013, 2015) since emerging in a larger offensive role, Jones has racked up 116 receptions for 1,528 yards and 14 touchdowns. His yards and receptions have improved in each season since entering the NFL. Although his touchdowns saw a sharp decline in 2015, some of that can be attributed to the emergence of a healthy Tyler Eifert -- he emerged as the Bengals' top red-zone threat in 2015 with 13 touchdowns.
Jones is wise to want to test the waters. If the Chicago Bears decide to use the franchise tag on impending free agent Alshon Jeffery -- and many expect they will -- Jones will be arguably the top free agent wide receiver on the market. In that scenario, Jones will be competing for a contract against the likes of Travis Benjamin, Anquan Boldin, Rueben Randle, and teammate Mohamed Sanu, among others.
Last offseason, free agent wide receiver Jeremy Maclin signed with the Kansas City Chiefs on a five-year, $55 million contract. That kind of deal maybe a little out of Jones' range -- considering he has played second fiddle to A.J. Green throughout his career. However, the five-year, $40 million contract that free agent wide receiver Torrey Smith signed with the San Francisco 49ers last offseason might be a good starting point in contract negotiations between Jones' agent and a prospective team.
Jones made it clear that money is not the only factor that will play into his decision on where to sign. Jones believes that he can become a great receiver in the NFL, but he knows that he still has to prove it.
In Cincinnati, Jones finished the 2015 season as the second option in the Bengals' passing game behind Green. He finished with 40 less targets than Green, and although he finished 27 more than Eifert, he was not as involved as the tight end inside the red zone. If the opportunity to emerge as a team's No. 1 receiver ends up playing a major role in his decision, Jones will likely move on from Cincinnati -- Green is signed through the 2019 season.
The Bengals are not known to be big spenders in free agency, but they have not taken the same stance when it comes to re-signing the players they drafted. In recent seasons, they have re-signed homegrown players like Green, Andy Dalton, Geno Atkins and Carlos Dunlap to lucrative multi-year contracts.
Based on the market, it will be interesting to see if position scarcity plays a part in inflating Jones' next contract. Now that he seems poised to take part in the process, you can expect to hear Jones' name often leading up to March 9 at 4 p.m. when teams can officially sign unrestricted free agents.