Martin 'The Hitman' Kampmann officially retires from MMA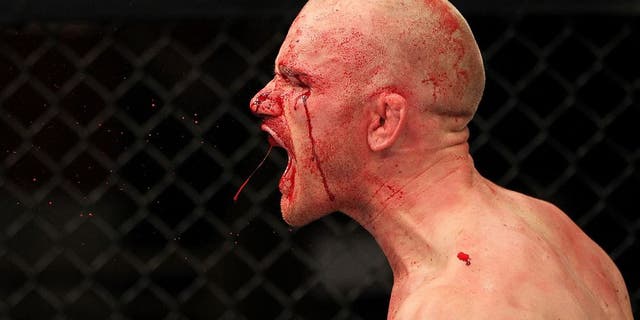 Following 27 professional fights, including 17 in the UFC, Martin Kampmann has officially retired from the sport of mixed martial arts.
Kampmann, 33, broke the news to UFC.com this week.
"I've known for a while," Kampmann said about his retirement. "I just haven't really made it official. I'm not sure why."
Kampmann was always known for an exciting style inside the Octagon while consistently sitting in the top 10 for most of his career and getting close to a title shot on numerous occasions.
Some of the biggest wins of Kampmann's career came against fighters who are still at the top of the sport today, including recent title challenger Carlos Condit as well as Jake Ellenberger and Thiago Alves.
Kampmann started out his UFC career as a middleweight before eventually transitioning down to 170-pounds where he made his biggest mark in the promotion. Kampmann hasn't fought since a TKO loss to Condit when the two fighters faced off in a rematch in 2013, but he just couldn't wrap a bow on his career until now.
"You never know, but I've known for a while that I'm not going to be fighting anymore," Kampmann said. "Sometimes it's tough to make it official."
Towards the tail end of his fighting career, Kampmann stopped focusing on his own battles inside the Octagon and turned his attention towards coaching. He moved to Sacramento, where he became the head coach of Team Alpha Male working with fighters like Urijah Faber, Chad Mendes and current bantamweight champion TJ Dillashaw.
Kampmann eventually had an amicable split with the team and he says now that he'll likely still dabble in MMA from time to time as a coach or trainer working with other fighters around the sport.
"I'm sure I'll still be involved in MMA," Kampmann said. "It will probably be more from a hobby perspective, whereas before, I was doing full-time fighting and full-time coaching. But I still have gyms that I work with and that I help. I coach, I do seminars, and I work a lot with my affiliate gyms and make sure that they're getting better in their MMA development. So I'll be involved in MMA, but now I'm really busy with other things."
Kampmann retires with a 20-7 record overall including an 11-6 mark in the UFC.