Mars, Inc. finalizes multi-year extension with Joe Gibbs Racing, Kyle Busch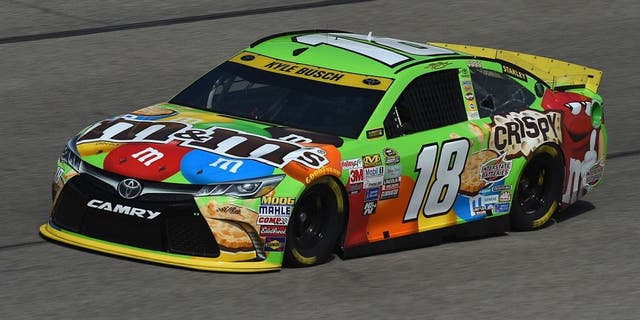 Joe Gibbs Racing announced Tuesday it has finalized a multi-year renewal with Mars, Inc. to remain the primary sponsor on Kyle Busch's No. 18 Toyota in the NASCAR Sprint Cup Series.
As part of the deal, Busch's No. 18 will feature Mars brands that include M&M, Snickers, Skittles, Double Mint and Pedigree. Since joining forces in 2008, JRG and Mars have recorded 29 wins, 142 top 10s and 15 poles.
"Representing Mars, Inc's family of brands on the No. 18 since 2008 has been an honor, and knowing they are committed to JGR for the next several seasons is awesome," said Busch, who enters this weekend's season finale with a shot at his first Sprint Cup championship. "Their support for me, my family and everyone at JGR has been incredible and this energizes me to work even harder for them and the team."
Mars, Inc. renewed their partnership with JGR in 2014, so Tuesday's announcement further solidifies the companies commitment to Busch, Gibbs and NASCAR overall.
"In order to get to victory lane, you have to have the best team on and off the track," said William Clements, vice president, sponsorships, Mars. "Our partnership with JGR and Kyle has routinely delivered for us at the track, as well as in-store and with millions of fans. We look forward to the opportunity to continue to build upon this amazing partnership."
Tuesday's announcement did not specify the length of the contract extension, other than to say it was a multi-year agreement.