Marquee Matchup Opens World Series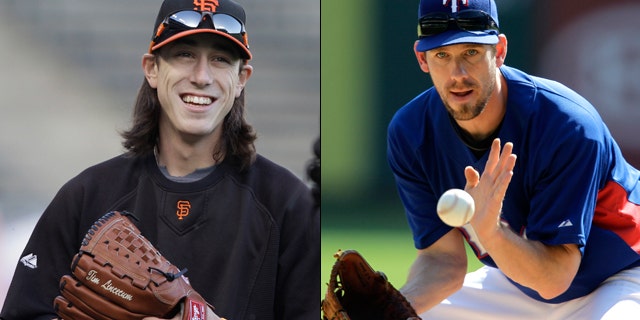 SAN FRANCISCO -- Cliff Lee marvels at Tim Lincecum's motion. So much torque, so much power. So darn unusual.
"The way he does it, no one else does it that way. I like that," Lee said Tuesday, a day before the Texas Rangers ace pitches against the San Francisco Giants star in Game 1 of the World Series.
"I like when unorthodox works and it works to that kind of an extent, back-to-back Cy Young winner. He throws in a way that you probably wouldn't want to show your kid how to throw," Lee said. "He definitely is doing something right. He's different."
There's something unique about Lee, too: He never loses in the biggest games. The lefty is 7-0 with a 1.26 ERA in eight lifetime postseason starts.
"Cliff Lee, superhero," summed up Giants third baseman Pablo Sandoval.
Watch Lee from the center-field camera and it's difficult to tell exactly what makes him so special.
David Price brings more heat. Andy Pettitte brought more October experience. But Lee beat them both in the playoffs.
Maybe it's the way he throws any of his pitches for strikes on any count. At any speed, too. A real-life version of a video game -- try to duplicate that in "Major League Baseball 2K10."
"Confidence, relying on my routine," Lee said. "Going out there and expecting to be successful."
It makes for an intriguing matchup of opposite artisans. The lanky Lincecum throws pitches with dizzying movement, while Lee is able to adjust his pinpoint control for an umpire's strike zone.
"He works in and out on both sides of the plate, which allows him a lot of freeze strike threes, guys looking. He paints his slider-cutter kind of thing," Lincecum said.
Rangers pitching coach Mike Maddux said Lee reminds him of someone he knows well -- namely his brother, four-time Cy Young winner Greg Maddux. A left-handed version, naturally.
"If you can command your fastball and change speeds, you're going to have good results," Maddux said.
Lee went 3-0 this year in the AL playoffs, striking out 34 and walking just one. That severe ratio has prompted many to suggest the best strategy is to hit the first strike he throws.
"You fall behind 0-1 or 1-2, it becomes a battle up there for any hitter," Texas catcher Matt Treanor said.
A win over the Giants will tie Lee for the best start in postseason history -- Orlando "El Duque" Hernandez, with all his quirky gyrations and deliveries, won his first eight decisions.
To Lee, it's all rather routine. In fact, there was a neat picture of him during the playoffs, yawning in the dugout at Yankee Stadium.
Sure doesn't look like someone pitching in huge games.
"I don't really look at it like that," Lee said a few days ago. "Some people might, I don't feel any more pressure."
Lee has been equally perfect against the Giants -- three starts, three wins and a 1.13 ERA. He last faced them in 2009 in his first start after being traded from Cleveland to Philadelphia, and breezed at AT&T Park.
Call it superstition or just being comfortable, Lee doesn't like to change his hat, glove or cleats during the season. Sometimes he has to -- he's been traded four times in his career, most recently from Seattle to Texas before the All-Star break.
Lee found himself with mixed emotions watching Philadelphia, where he won twice in the World Series last year, play San Francisco in the NLCS.
Sure, he was friendly with many of his former Phillies teammates. But there was the other side of the baseball business.
"I didn't mind seeing them get beat because they got rid of me," he said.
Several of the Giants have faced Lee many times.
Juan Uribe is 11 for 37 (.297) with two homers against him. Jose Guillen is 9 for 25 (.360) with two homers. Aaron Rowand is 7 for 25 (.280) with four doubles and a home run. Aubrey Huff is 5 for 19 (.263).
Then there's Cody Ross.
Many years ago, before he blossomed into the MVP of the NL championship series, Ross was a struggling rookie with the Detroit Tigers. Just so happens he hit his first major league home run off Lee. A grand slam, at that.
Ross had played a handful of games in the majors and had only two career hits when he faced Lee on Sept. 2, 2003. Ross struck out looking his first time up, but got more than even in his next at-bat, launching the first grand slam ever allowed by the young Cleveland pitcher.
The game was memorable for Ross because of something else. In the late innings, he tripped over first base beating out a bunt, tore his knee, was carted off the field and done for the season.
Both Ross and Lee have come quite a way since then. They haven't faced each other since the slam, either. Ross promises his team will be ready for baseball's No. 1 postseason ace, having already solved the supposedly unbeatable Roy Halladay in the NLCS opener.
"It was the Halladay show a week ago after he threw the no-hitter against the Reds," Ross said. "We're not surprising anybody, believe me. Everybody knows how good our pitching staff is. But I think we prefer for everyone to talk about everybody else."
Lee figures to be focused squarely on the Giants, and Ross.
"He's just had a good couple of weeks. He's put together some good at-bats and hit some tough pitches. I mean, two home runs off Roy Halladay, hit a ball off of Cole Hamels that wasn't even a strike," Lee said.
"Hopefully he has a little bit of time to cool off before this one starts," he said.