Marlins surprise Christian Yelich with lookalike from 'SNL'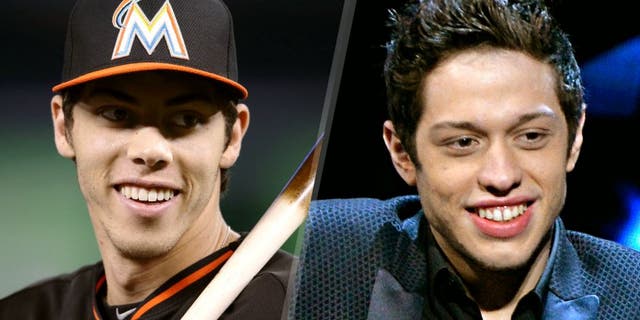 NEW YORK -- The newcomer in a Miami Marlins uniform sure looked a lot like Christian Yelich - except in the batting cage.
Even though they are more than 20 games under .500 as the season winds down, the Marlins had some fun Tuesday evening at Citi Field. They surprised their Gold Glove outfielder by arranging a meeting with ''Saturday Night Live'' funnyman Pete Davidson, who certainly bears an unusual resemblance to Yelich.
The ''twins'' have participated in a running joke online this season about how much they look alike.
Davidson dressed in a separate locker room - complete with a No. 21 jersey that had Yelich's name on the back - and joined the team on the field as giggling players stretched for batting practice. Strength and conditioning coach Ty Hill, who wasn't in on the gag, got annoyed and shooed Davidson away.
But a bit later, Yelich and Davidson chatted cordially and posed for photos. Davidson borrowed a glove and went to center field with Yelich to shag flies before Miami's game against the New York Mets. And the comedian even grabbed a bat and took a few awkward cuts in the cage, managing a foul tip and a soft grounder that drew cheers and high-fives from the Marlins.
''If he can hit like Yelly, we'll put him in the lineup. We'll take him,'' Miami manager Dan Jennings said, chuckling. ''I've never seen the spoof, but I heard that they do it on `SNL,' so it's pretty good. There's some comparables there, but I'd take our Yelly at the plate.''