Marlins recall Cosart, Solano, reinstate Urena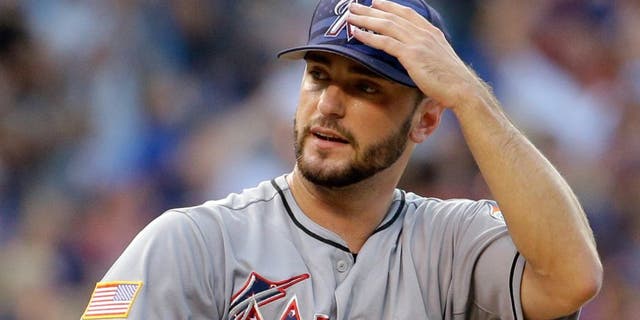 NEWYou can now listen to Fox News articles!
MIAMI -- The Miami Marlins recalled right-hander Jarred Cosart and infielder Donovan Solano, while reinstating righty Jose Urena from the disabled list prior to Friday's game against the New York Mets.
Cosart, who has dealt with two bouts of vertigo this season, last pitched in the big leagues on July 4 when he exited in the second inning following Chicago Cubs rookie Kris Bryant's grand slam. He gave up seven runs on four hits and three walks. He was demoted shortly after.
During his time in the minors, Cosart suffered a relapse with an inner-ear disorder. He allowed seven runs on 12 hits in 13 innings over three outings in his return stint, his last outing coming Tuesday with Single-A Jupiter.
The 25-year-old righty was a member of the Opening Day rotation. Cosart posted a 1-4 record and 5.36 ERA in nine games (eight starts) before the demotion. In 45 1/3 innings, he struck out just 29 hitters with 20 walks.
Acquired during last year's trade deadline from the Houston Astros, Cosart showed promise as a front-end starter by going 4-4 with a 2.39 ERA in 10 starts.
Solano hit .156 with two doubles, one triple and six RBI in parts of 46 games with the Marlins earlier this season. He had made the Opening Day roster in three straight years.
Urena, who turns 24 later this month, landed on the DL on Aug. 7 with a left knee contusion he sustained when a liner by the Atlanta Braves' Daniel Castro struck him.
The 24-year-old rookie had gone 1-5 with a 5.11 ERA in 11 games (nine starts). In June before being sent down to Triple-A New Orleans, Urena posted a 1-3 record and 2.86 ERA in six starts. Upon his return, however, he surrendered nine earned runs on 14 hits over seven innings in two outings for an 11.57 ERA.
You can follow Christina De Nicola on Twitter @CDeNicola13 or email her at cdenicola13@gmail.com.