Marlins pitcher José Fernández fought with pregnant girlfriend before tragic accident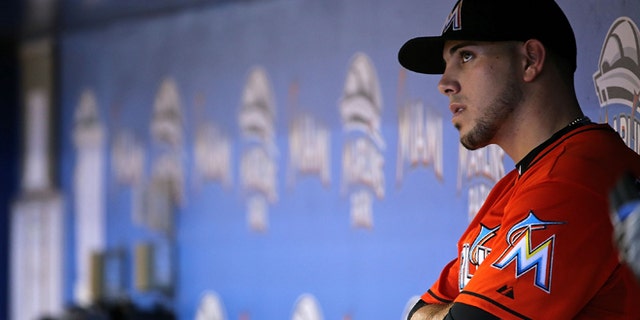 NEWYou can now listen to Fox News articles!
Miami Marlins ace Jose Fernandez had been fighting with his pregnant girlfriend the night he jumped onto a boat and was killed along with two friends.
Will Bernal, a friend of Eddy Rivero who was on the boat that crashed early Sunday morning, told the Miami Herald that he believed Fernandez might have been stressed after getting into an argument with his girlfriend, Maria Arias, sometime before.
He said he was invited to tag along but declined because he was worried about boating so late at night and had a bad feeling. He spent the night texting with Rivero trying to get him to not go on the boat and convince Fernandez to cool off on land.
"I was trying everything in my power to try to convince [Rivero] to not go out on the boat, and José, too," Bernal told the Miami Herald.
The other person killed in the boasting accident in Government Cut, the channel that separates Miami Beach from Fisher Island, was identified as Emilio Macias. The bodies of the three men were recovered early Sunday morning in the area around the jetty rocks where the boat was found.
Bernal, a Miami socialite, posted his text exchange with Rivero online.
"Try to keep him close to shore if you go out," Bernal texted.
"Trust me it's not my time yet," Rivero responded.
"I know but try to keep José cool, tell him what I said," Bernal wrote back.
The text started sometime around midnight after Rivero called Bernal to say the baseball superstar was "really stressed out."
Fernandez was last seen at the American Social Bar & Kitchen a few hours before the accident.
Arias, who is reportedly giving birth in February, has not spoken out about his sudden death or the alleged fight.
The Marlins superstar announced that she was pregnant just days before his crash in a touching post on Instagram.
"I'm so glad you came into my life,'' he wrote. "I'm ready for where this journey is gonna take us together. #familyfirst.''
Her father Orlando A. Sanfiel posted a video on Facebook on Aug. 11 that showed his daughter and Fernandez celebrating the announcement that she is pregnant and having a girl.
"I knew it! I knew it!'' Fernandez said in the video.
According to the Miami Herald, there were unconfirmed reports that Arias was taken to the hospital for observation on Tuesday.
Initial reports stated that Fernandez's ex-girlfriend Carla Mendoza, a 24-year-old former Miami Marlins cheerleader, was the person pregnant with his child. However, the two split up months ago and Fernandez began dating Arias.
Miami officials reported there was no indication of drugs or alcohol involved in the accident. Toxicology results have not been released.
Friends and families of Macías and Rivero have started a GoFundMe accounts to raise funds for funeral expenses: Rivero's GoFundMe page is here, and Macias' is here.
On Monday night, the Marlin paid tribute to Fernandez on their first game after his death with a win over the New York Mets.
Like us on Facebook
Follow us on Twitter & Instagram