Marlins' peace with Boras pays off in signing of Chen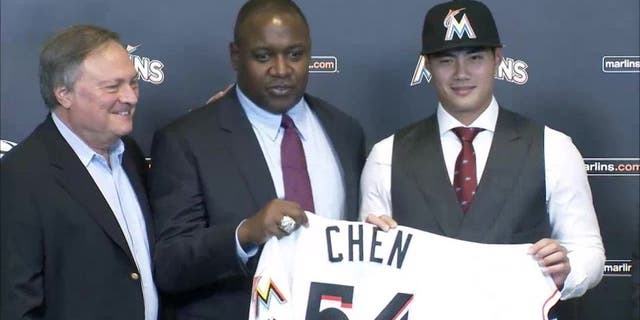 MIAMI -- Wei-Yin Chen posed in his new Miami Marlins jersey, flanked on one side by his agent, Scott Boras, and on the other by team executives as everyone smiled for the clicking cameras.
If the Marlins win this year for a change, it will be partly because they made peace with Boras.
Chen's new contract is a dividend of the truce. The former Baltimore Orioles left-hander signed an $80 million, five-year deal announced Tuesday.
''Baseball is like a family -- you have disagreements,'' Marlins president David Samson said. ''But there was never an issue during the negotiations.''
Samson's feud with the agent involved two other Boras clients, Marlins ace Jose Fernandez and outfielder Marcell Ozuna. In November, when Boras criticized the Marlins' handling of Ozuna last season, Samson responded by saying Boras should buy a team if he thinks he knows how to run one. Samson also said Boras would be excluded from any talks about an innings limit for Fernandez, who returned last season from Tommy John surgery.
Boras' participation in the news conference for Chen suggested the agent and team are eager to show they've bridged their differences.
''Yes, there are times we're going to have disagreements,'' Boras said. ''But to have a player of this talent be in a place where he has an opportunity to succeed at the highest level, we've done well by the game and for the Marlins.''
Boras said he pitched the idea of Chen in Miami to team owner Jeffrey Loria, mindful his client is a flyball pitcher who should fare well in spacious Marlins Park.
Boras also represents Marlins right-hander Jarred Cosart, meaning he has four of their players, including three starting pitchers.
''Scott represents more players on our team than any agent,'' Samson said.
Last week Boras and the Marlins reached a $2.8 million, one-year agreement for Fernandez, who avoided arbitration. Discussions about a long-term deal have been tabled for now.
''For the franchise and for us, we all agreed that when you have a player coming off Tommy John, you're asking everyone to do a lot of speculation,'' Boras said. ''You want to make sure the player is durable and performing at his level.''
There was a tempest in New York late last season about an innings limit for another Boras client, Mets right-hander Matt Harvey. Boras said he'd prefer the decision on Fernandez's ceiling wait until the end of spring training.
And he said that decision will be made by the Marlins.
''I just try to increase the dialogue between the team and the surgeon,'' Boras said. ''They've got to come to an understanding about what limits the doctor wants.
''I'm not in the business of running teams. I work with players. In the end the teams are going to make the decision about what happens.''
While Fernandez will be monitored carefully, Chen gives Miami a durable No. 2 starter. He went 46-32 with a 3.72 ERA in four seasons with the Orioles, and last year he went 11-8 with a 3.34 ERA, which ranked seventh in the American League.
Chen met Fernandez for the first time before the news conference.
''We had a short conversation,'' the Taiwanese pitcher said through a translator. ''I believe we'll have a good time in Miami.''
The signing was the second this week for the Marlins. They announced their $50 million, five-year deal with NL batting champion Dee Gordon on Monday.
Loria, whose team has finished below .500 for six consecutive years, attended news conferences for both players but didn't talk to reporters.
''We're poised for a great season,'' the owner said in a statement.
Chen gets a $13 million signing bonus, of which $5 million is payable on Nov. 30, 2017, and the remainder on June 30, 2018. The deal calls for salaries of $6 million this year and $9 million in 2017, and it includes player options at $10 million in 2018, $20 million in 2019 and $22 million in 2020. All three options must be decided within four days of the end of the 2017 World Series.
If Chen pitches at least 180 innings in 2020 or at least 360 in 2019 and `20 combined, he does not finish the season on the disabled list, and he is healthy for the following spring training, he would have a $16 million player option for 2021.
Much of his salary is deferred, with Chen receiving during the season $3 million this year, $4.5 million in 2017, $2 million in 2018, $4 million in 2019, $5 million in 2020 and $1 million in 2021. From 2016-20, he receives identical payments each Nov. 30.
In addition, $6 million is deferred without interest in 2018, $12 million in each of the following two seasons and, potentially, $15 million in 2021. That money is to be paid in installments on June 30 of $6 million in 2019, $9 million in 2020, $15 million in 2021 and, if the condition option is exercised, $15 million in 2022.