Marlins Park fences will be altered for 2016 season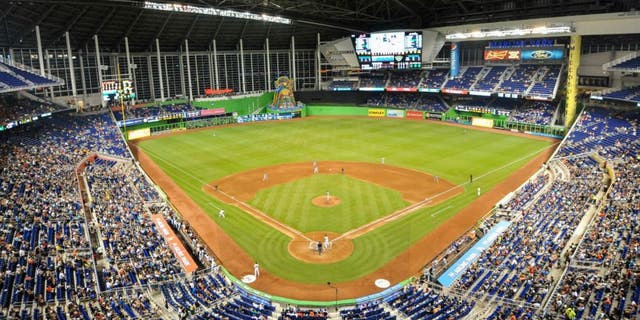 NEWYou can now listen to Fox News articles!
MIAMI -- While the Miami Marlins boast one of the top power hitters in the game, the home run sculpture has stayed relatively untouched since Marlins Park opened in 2012.
Over four seasons spanning 324 games, the Marlins have blasted 203 home runs -- finishing in the lower-third of the pack each year. In total, 412 homers have been hit -- the second-lowest total in baseball -- ahead of 411 at San Francisco's AT&T Park.
President David Samson announced the Marlins would adjust both wall height and field dimensions prior to the 2016 season during a press conference on Tuesday afternoon.
The Marlins are working with architectural firm Populous on designs before going to the city and county. The hope is to have it ready for Opening Day on April 5, 2016.
A decision on exact changes should come by the end of October. Construction wouldn't take place until after a four-team winter baseball tournament called Serie de las Americas from Nov. 21-22. New dimensions would not affect the ability to play football or soccer at Marlins Park.
"We have done a bunch of studies for the last four seasons on how the ballpark was playing," Samson said. "We believe that we have a better chance to win more home games with some adjustments we're going to make on wall size and potentially on wall distances."
In 2015, Miami finished second-to-last in the majors with 120 dingers with 53 coming at home. The 2017 All-Star Game and Home Run Derby will take place at Marlins Park.
All-Star slugger Giancarlo Stanton, who played in just 74 games, led the club with 27. Rookie first baseman Justin Bour ranked second with 23. Outfielders Christian Yelich and Marcell Ozuna belted three combined long balls in 123 home games.
Miami went 41-40 at Marlins Park in 2015, posting an above .500 record for the second consecutive season. Overall, the Marlins are 157-167 in the ballpark since it was opened. The organization would like to take advantage of the place it calls home for 81 games a year.
"Still a pitcher's park because pitching and defense wins," Samson said. "This isn't so Stanton can hit more home runs, right? We could move the fence back and he could still hit a lot of them. It's not about him. It can be very disheartening for players to hit a ball 410 feet and have it not go out to dead center or right of center. It's also exciting for a young pitcher going into arbitration when they get to say, 'Hey, I recorded a save with a 410-foot out.' Trend towards pitching but we're trying to make it play more fair."
At the moment, the walls range from 11 1/2 to 13 feet high. Down the left-field line, a batter must hit the ball 344 feet for a homer. The left-center gap extends to 386 feet, with 418 to straightaway center, 392 in right-center field and 335 down the right-field line.
The changes would affect the gaps, especially in right-center. Adding to the excitement of more homers would be the possibility of players like Yelich, a 2014 Gold Glover in left field, taking away some from opposing batters.
"What got us thinking about that was the excitement of robbing home runs, and that's a cool thing we don't get to do here," Samson said. "You want to make it low enough that people can jump over and make catches. The thought of a left fielder jumping into the Clevelander is sort of awesome to me. The thought of Giancarlo jumping toward the party deck -- it's interesting."
You can follow Christina De Nicola on Twitter @CDeNicola13 or email her at cdenicola13@gmail.com.