Marlins notes: Dee Gordon gets day off; Giancarlo Stanton might face live BP soon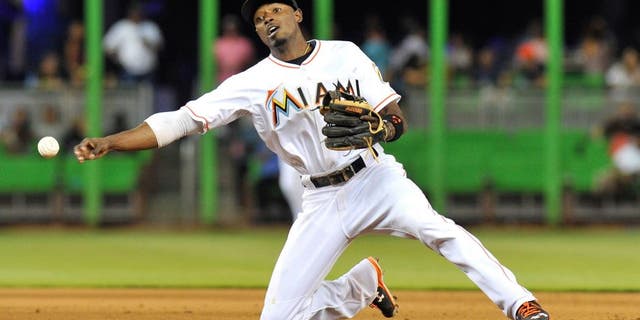 MIAMI -- The Miami Marlins gave All-Star second baseman Dee Gordon a rare night off Wednesday.
Gordon, who has played in 110 of 126 games, leads the majors with 156 hits and a .333 average. Miami is on Day 13 of 20 in a row. Miguel Rojas started in his place batting second. Cole Gillespie, inserted into right field, got the leadoff nod.
"We had talked about this three days before to give him this day," manager Dan Jennings said. "It's funny. Usually when I tell guys I'm going to give Wednesday off the night before he'll get 2-3 hits and his case steal four bases and then everybody goes, 'What's wrong with the manager? This guy's on fire.' It opens me up for second guessing, but that goes with the job.
"We're in the middle of 20 in a row, so we've tried to pick the days we've rested (Adeiny Hechavarria). We're going to rest JT (Realmuto) tomorrow. (Ichiro Suzuki)'s going to rest tonight. We've tried to put guys in situations where 3-4 days get them a day off their legs so they can continue to play at the level they're playing at."
Over the weekend, Gordon stung his left thumb on an attempted steal that remained sore the next day. He missed the All-Star Game and began the second half on the disabled list with a dislocated thumb. Gordon said it still affects his grip since it concerns his top hand while batting.
It's rare to see players complete a full 162-game slate whether because of injuries or travel. Juan Pierre, who was honored Sunday, didn't miss a game in his three seasons from 2003-05 with the Marlins.
"You feel energized, get a nice controlled day off," Gordon said. "Your mind can calm down a little bit. You need it every now and then. I'm definitely not Juan Pierre in that aspect. ... I don't know how he did it."
STANTON UPDATE
All-Star slugger Giancarlo Stanton (left hamate surgery) might face live batting practice for the first time Monday and Tuesday in Jupiter. He said he wants to be back in a week-and-a-half, putting him in line to return for the next homestand that begins Sept. 4 against the New York Mets.
LASTING EFFECT
Miami's Triple-A affiliate in New Orleans snapped a 15-game losing skid Monday.
Thirteen different pitchers -- when including Wednesday's outing for Chris Narveson -- have started for the Marlins because of various injuries. Eleven arms have seen DL time. Dan Haren got dealt to the Chicago Cubs, which meant the departure of a reliable member of the rotation.
With this turnover, Miami has been forced to go into the farm system, bringing up lefties Justin Nicolino and Adam Conley as well as righties Jose Urena and Kendry Flores. That, naturally, leaves the Zephyrs pitching staff in flux.
"It's been unfair because they wake up every day not knowing is their starter for tonight truly their starter," Jennings said. "He might be on his way to Miami. It's tough for (manager) Andy Haines, for (pitching coach John) Duffy. When we've had the number of injuries we've had to have to pull from those Triple-A guys and that pulls from Double-A to them. It's a trickle-down effect throughout the organization, and it sometimes makes guys go to a level before they're ready to be there."
You can follow Christina De Nicola on Twitter @CDeNicola13 or email her at cdenicola13@gmail.com.