Marlins notes: Carter Capps throws bullpen, Giancarlo Stanton not ready for BP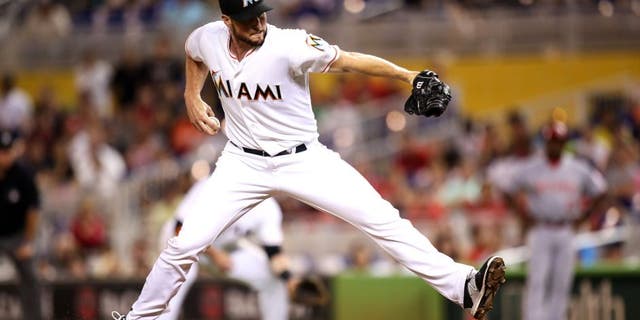 MIAMI -- Miami Marlins setup man Carter Capps threw his first bullpen Tuesday since landing on the disabled list with a right elbow sprain.
Capps said he felt good but had no idea when he would return. He exited an outing Aug. 2 when he experienced discomfort.
"Went well, (pitching coach) Chuck (Hernandez) was pleased," manager Dan Jennings said. "I saw him throw flat ground and he looked good. The ball was coming out nice. It's great to see. Hopefully we start to get some of these guys that have been injured and had setbacks get those guys back and the quicker the better. We can have a full squad and play at 100 percent would be nice to see."
Jennings is optimistic Capps can return after the 15 days are up, which would be a week from Tuesday. The 25-year-old righty, who often reaches triple digits on the radar gun, will throw another bullpen before a rehab assignment.
"I hope so," Jennings said. "Today was a nice step. It was his first bullpen and he'll have another bullpen and then somewhere we'll get him in game action probably in Jupiter and see what he looks like."
STANTON NOT READY FOR BP
All-Star slugger Giancarlo Stanton, who has been on the DL with a left hamate fracture since June 27, still hasn't hit live pitching. His timetable, which called for 4 to 6 weeks of recovery time following the surgery, has come and passed.
Is he ready for batting practice?
"I don't think so, not at this moment," Jennings said. "He has been in the cages. feels good, starting to feel some strength come back. Hopefully that's a positive sign that we can move that clock forward some."
COSART PROGRESSING
Right-hander Jarred Cosart, who dealt with vertigo twice and was diagnosed with a left inner ear disorder, took a step in his return.
The 25-year-old righty, a member of the Opening Day rotation, had been sent down to Triple-A New Orleans to work on mechanics when his second bout took place in mid-July. He will throw another bullpen on Thursday -- his second -- since the relapse. In nine games (eight starts) in the big leagues, Cosart went 1-4 with a 6.36 ERA.
"He's progressing in the right way now and just got to get him built back up to a level where he can come back in," Jennings said.
YELICH SCRATCHED
Gold Glove outfielder Christian Yelich was scratched from Tuesday's game with a right knee contusion. He was replaced by Derek Dietrich, who will start in left field and hit third.
You can follow Christina De Nicola on Twitter @CDeNicola13 or email her at cdenicola13@gmail.com.