Marlins make late push, can't overcome fateful 7th in loss to Padres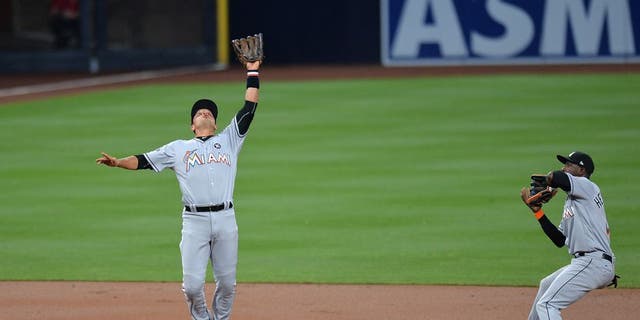 SAN DIEGO (AP) -- Austin Hedges hit a three-run homer and Trevor Cahill pitched seven strong innings in his home debut for his hometown San Diego Padres, who beat the Miami Marlins 5-3 on Friday night for their third straight win.
Hedges gave the Padres a nice cushion when he homered off the front of the balcony on the fourth floor of the Western Metal Supply Co. Building in the left field corner, his fourth. It was off reliever David Phelps (2-2). Rookie Manuel Margot was aboard on a single and Yangervis Solarte on an intentional walk.
The Padres scored a run earlier in the inning when Luis Sardinas, who singled while pinch-hitting for Cahill, came in on Wil Myers' double play.
Giancarlo Stanton hit a two-run homer, his fifth, with one out in the ninth. He won the Home Run Derby here last July 12 and had a big home run for the United States in a victory against the Dominican Republic last month that put the Americans into the semifinals of the World Baseball Classic.
Cahill (1-2) who signed as a free agent on Jan. 20, held the Marlins to one run and three hits in seven innings, struck out six and walked one.
Cahill's only mistake was allowing Marcell Ozuna's homer into the second deck in left to tie it at 1 with one out in the second. It was his sixth.
Margot hit a leadoff triple to right in the first and scored on Erick Aybar's sacrifice fly. The Padres had runners on the corners with one out after Myers walked and Solarte singled before Adam Conley retired the side.
Conley held San Diego to one run and six hits in six innings, struck out five and walked two.
UP NEXT
Marlins: RHP Dan Straily (1-1, 4.61) is scheduled to make his fourth start.
Padres: RHP Jered Weaver ( 0-1, 4.24) is scheduled to make his home debut. Signed in the offseason as a free agent, his only other start at Petco Park was with the Angels on May 18, 2012, when the beat the Padres.