Marlins celebrate former stars Juan Pierre, Dontrelle Willis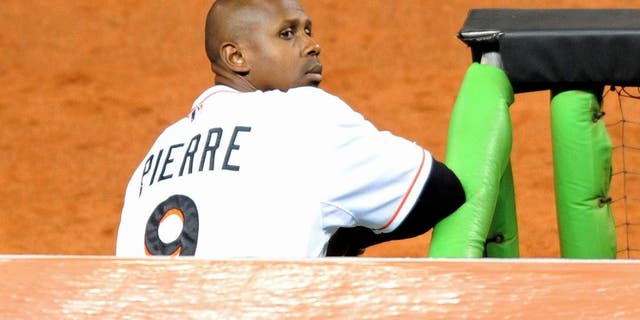 NEWYou can now listen to Fox News articles!
MIAMI -- Before becoming a prospect in big-league camp, Dee Gordon would run along a path at the Los Angeles Dodgers spring training complex to watch Juan Pierre hit every morning.
Gordon, whose old iPad featured videos of the speedster, is now a two-time All-Star second baseman for the Miami Marlins -- the same organization that Pierre reached acclaim with.
Like Gordon, Pierre didn't walk much. Pitchers feared him on the basepaths, so they didn't want to issue free passes. He was the first to the ballpark and last to leave.
"That's where I get mine from listening to him and Chone Figgins," Gordon said of his work ethic. "They've been a huge part of my learning. You don't see a whole lot of them. You just see guys hitting the ball out of the ballpark. You don't see it a lot or you don't see guys who can do it as well anymore. It's tough to see. I guess when you do see it it's pretty cool."
Pierre -- fittingly wearing a shirt that read "Hustle" on it -- returned to Marlins Park on Sunday for Dontrelle Willis and Juan Pierre Day, which honored the duo that led the ballclub to its second World Series title in 2003. Pierre's parents, brother, sister, wife and two kids came in support.
Now 38, Pierre spent 2003-05 with the Marlins, also returning in 2013 for his final season. He still holds several franchise single-season records, including hits (221), triples (13), multi-hit games (70) and stolen bases (65). He became just the 18th player in MLB history to reach 600 steals in '13.
His underdog persona -- just 5-foot-10, 180 pounds and a 13th-round pick -- made him a fan favorite. Pierre never missed a regular-season game in a Marlins uniform, appearing in all 162 each year.
"I knew that's one thing I could control every day the way I went out and hustled and played the game," Pierre said. "Did it always work good? No, but I knew I gave it my all and that's the way I prepared every day. I never took it for granted. One day I was in the big leagues because I wasn't the high draft (pick). I wasn't supposed to be here. Once I got here I wasn't supposed to stay. I was always too small, no power, all that stuff. I never took it for granted. I see a lot of guys have that. Key guys, too. (Giancarlo) Stanton works hard, Dee works hard. Got a lot of pitchers who work hard."
Willis, who was unable to attend because of a last-minute conflict, pitched five seasons for the Marlins from 2003-07. He earned National League Rookie of the Year and received two All-Star selections ('03, '05). Willis finished second in NL Cy Young voting during a 22-win season in '05.
Called up from Double-A Carolina in early May, Willis catalyzed the ballclub with his infectious personality and kooky leg kick. The D-Train captured both local and national attention as the Marlins shocked the baseball world.
"It was crazy," Pierre said. "The fans, everybody wore the high socks. If it was social media out there he would've been a phenom. He was already a phenom. Rookie of the Year, All-Star and World Series champ. I don't know how many times that's been done. He took Miami and baseball on fire. He was fresh. He was new, he brought energy. We knew once we played we had that energy behind him. We knew he was going to go out there and fight. He was like a high school kid out there maybe hit a homer, hit a double, throw seven, eight shutout innings. He was just fun to watch. As defense behind him you had to get caught into playing defense because you got caught up in the leg kick. He was great for baseball, and that's why we still talk about him in the game anytime a Jose Fernandez comes up. It makes you remember Dontrelle Willis."
Pierre, who is the godfather to all four of Willis' kids, talks with his former teammate -- now 33 and retired -- at least once a week. Willis and Pierre became fast friends, meeting up at 6 a.m. in the hotel lobby to head to Roger Dean Stadium for spring training every day.
"I love the guy," Pierre said. "It's cool to be able to share it with him. He's meant a lot to me. We're still friends. In this game it's hard to keep friends because you travel and go from different teams. We've always been friends. We were young cats here, now we're married with kids. It's cool to grow up alongside him."
You can follow Christina De Nicola on Twitter @CDeNicola13 or email her at cdenicola13@gmail.com.