Marlins ace Fernandez plans to return Saturday vs. Nationals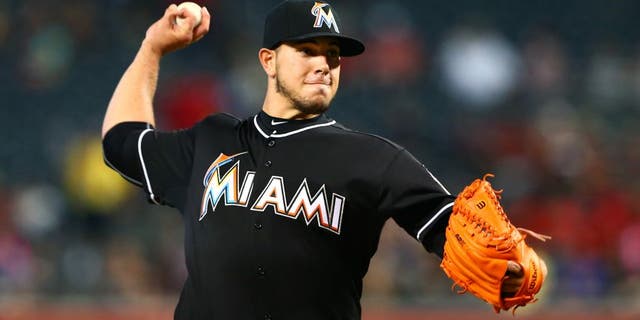 MIAMI -- Miami Marlins ace Jose Fernandez plans to start Saturday's home game against the Washington Nationals.
Fernandez, who threw a simulation game Monday morning before the Marlins took on the Milwaukee Brewers, has been on the disabled list retroactive to Aug. 8 with a right biceps strain.
When asked whether he would pitch in five days, Fernandez divulged the ballclub's plans.
"That's what pitchers do, right? Pitch every five days," Fernandez said. "It should be. Should be pitching Saturday, yes. I should be pitching Saturday against Washington. I don't know how many pitches or whatnot. Whatever it is I'll be ready for it. I still have to throw my bullpen and make sure everything is fine, but the plan is to pitch Saturday against Washington."
The 23-year-old right-hander underwent Tommy John surgery in May 2014 before returning on July 2 of this season. In seven starts, Fernandez posted a 4-0 record and 2.30 ERA. Over 43 innings, he allowed 11 runs on 34 hits with 53 strikeouts and 10 walks.
Fernandez felt the discomfort during his Aug. 7 outing against the Atlanta Braves. He threw 38 pitches in a two-run fourth inning as eight batters came to the plate. Over five frames, he tossed 76 pitches at Turner Field. It was initially called shoulder stiffness.
Monday marked his first time facing hitters since that appearance. He had been throwing bullpens and still has one more to ensure he can make Saturday's start.
Of his 75 pitches over four simulated innings -- without any runners or fielders -- Fernandez allowed just two balls to leave the infield: Miguel Rojas' flyball to right field and Cole Gillespie's foul line drive. Recently promoted catcher Tomas Telis and hitting coach Frank Menechino also took hacks.
"Since the first inning I was all-out," Fernandez said. "I wasn't overthrowing. I was staying in my mechanics and trying to command the pitch where I wanted it. It's always great to be back on the mound and especially on that mound that's so special to me."
This past weekend, the Marlins took two of three against the division-leading New York Mets. The Nationals -- four games out in the National League East -- will visit this weekend. Miami could play spoiler having won five of its last six contests.
Since making his debut in 2013, Fernandez is 15-0 with a 1.14 ERA in 24 starts at Marlins Park. He is one win shy of matching the all-time record for most home victories without a loss to start a career.
"Every game is important no matter who I'm facing and who's there," Fernandez said. "I'm going to try and give my team a chance to win. thats what I'm here for.
"It means the world (to return). It means a lot because not only for my own peace of mind. I think for our team finishing the season strong and going into next year knowing that everything is healthy and we'll be ready to go next year. That's really important to me."
You can follow Christina De Nicola on Twitter @CDeNicola13 or email her at cdenicola13@gmail.com.