Markkanen scores 22, No. 10 Arizona routs Sacred Heart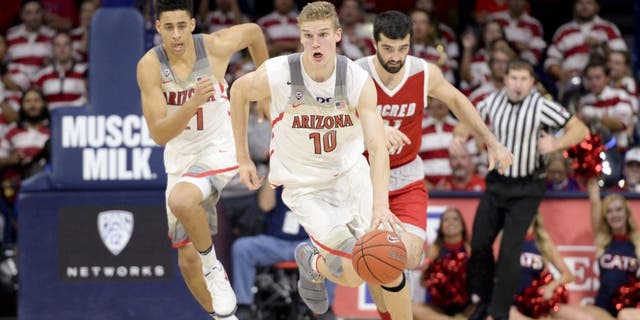 TUCSON, Ariz. -- Arizona coach Sean Miller called it "a typical November game."
For his 10th-ranked Wildcats, that meant another blowout over an overmatched opponent.
Lauri Markkanen scored 22 points to lead six Arizona players in double figures in Arizona's 95-65 rout of Sacred Heart on Friday night.
Fellow freshman Rawle Alkins added 18 points for the Wildcats (3-0). They led by as many as 25 points in the first half and 39 in the second.
Arizona's Dusan Ristic had 13 points and a career-high 15 rebounds.
Quincy McKnight had 22 points -- 20 in the second half -- and Joseph Lopez 15 for the Pioneers (1-2).
"November is a month of learning," Miller said. "Players are learning, they're learning each other, they're learning our system, but the coaching staff is learning on what kind of combinations of players work well, who can do what, what we need to teach and do a better job of."
The game was part of the Las Vegas Invitational, as is Monday night's game against Northern Colorado. The Wildcats move on to Las Vegas to play Santa Clara next Thursday.
If a team plays four games in a tournament, it gets an extra game on its schedule.
The much bigger, quicker Wildcats never trailed and turned the game into a blowout in a hurry, despite having a miserable night from 3-point range.
The Wildcats were 1 for 15 on 3s before Markkanen made two in a row late in the second half.
Miller said the Wildcats are just now learning how good the Finnish freshman Markkanen is on offense.
"There were times when he was open and the ball didn't find him," Miller said. "Then all of a sudden it did and he went on his own personal 8-0 run. ... Lauri's efficient. He's not going to take bad shots. That was about as easy of a 22-point night as I've seen."
Miller noted his team committed seven turnovers, just one in the first half. Point guard Parker Jackson-Cartwright didn't' have a turnover in his 30 minutes on the court.
A pair of Arizona newcomers got the McKale Center crowd rocking with some high-flying plays.
In consecutive plays, freshman Kobi Simmons had a backcourt steal and two-handed dunk and junior college transfer Keanu Pinder knocked the ball away in Sacred Heart's backcourt and got the dunk on a lob pass from Parker Jackson-Cartwright at the other end, and Arizona led 43-18 with 4:17 left in the first half.
Ristic had 10 rebounds in the first half, one shy of his career-best for a game. The Wildcats led 49-25 at the break.
Sacred Heart coach Anthony Latina lamented his team's 17 turnovers, which resulted in 25 Arizona points.
"When you play a team that good, you can't give them free points and we did," he said. "Now, fortunately we don't play a team that good the rest of the year, unless we make the NCAA Tournament."
BIG PICTURE
Sacred Heart lost last season's league MVP Cane Broome, who transferred to Cincinnati. The Pioneers have some talent but nowhere near enough to stay with Arizona on the road.
The Wildcats did what they are supposed to do. They won't really have a challenge until the Las Vegas Invitational matchups next week, when they face Santa Clara and either the winner or loser of the Butler-Vanderbilt game.
PAC-12 POUNDINGS
It was the first meeting between the schools and the first for Sacred Heart against a Pac-12 team since playing Washington on Dec. 22, 2004. The Pioneers lost that one 114-55.
The Wildcats pounded a Northeast Conference team for the fourth time in the last five seasons.
They beat Bryant 100-60 in the 2011-12 season, Farleigh-Dickenson 100-50 in 2013-14 and Mount St. Mary's 78-55 in 2014-15.
SHAQ IN THE HOUSE
NBA great Shaquille O'Neal was one of those in the crowd at sold-out McKale. He was in town for a visit by his son Shareef. The younger O'Neal, a 6-foot-8 junior forward at Crossroads School in Santa Monica, California, is a five-star recruit. Baylor and UCLA also are chasing him.
UP NEXT
Sacred Heart: The Pioneers make the second and final stop on their trip west when they play at Santa Clara Monday night.
Arizona: The Wildcats complete a three-game home stand against teams from lesser conferences when they face Northern Colorado on Monday night.