Mark Sanchez Silences Critics with Winning Performance in Jets' NFL Season Opener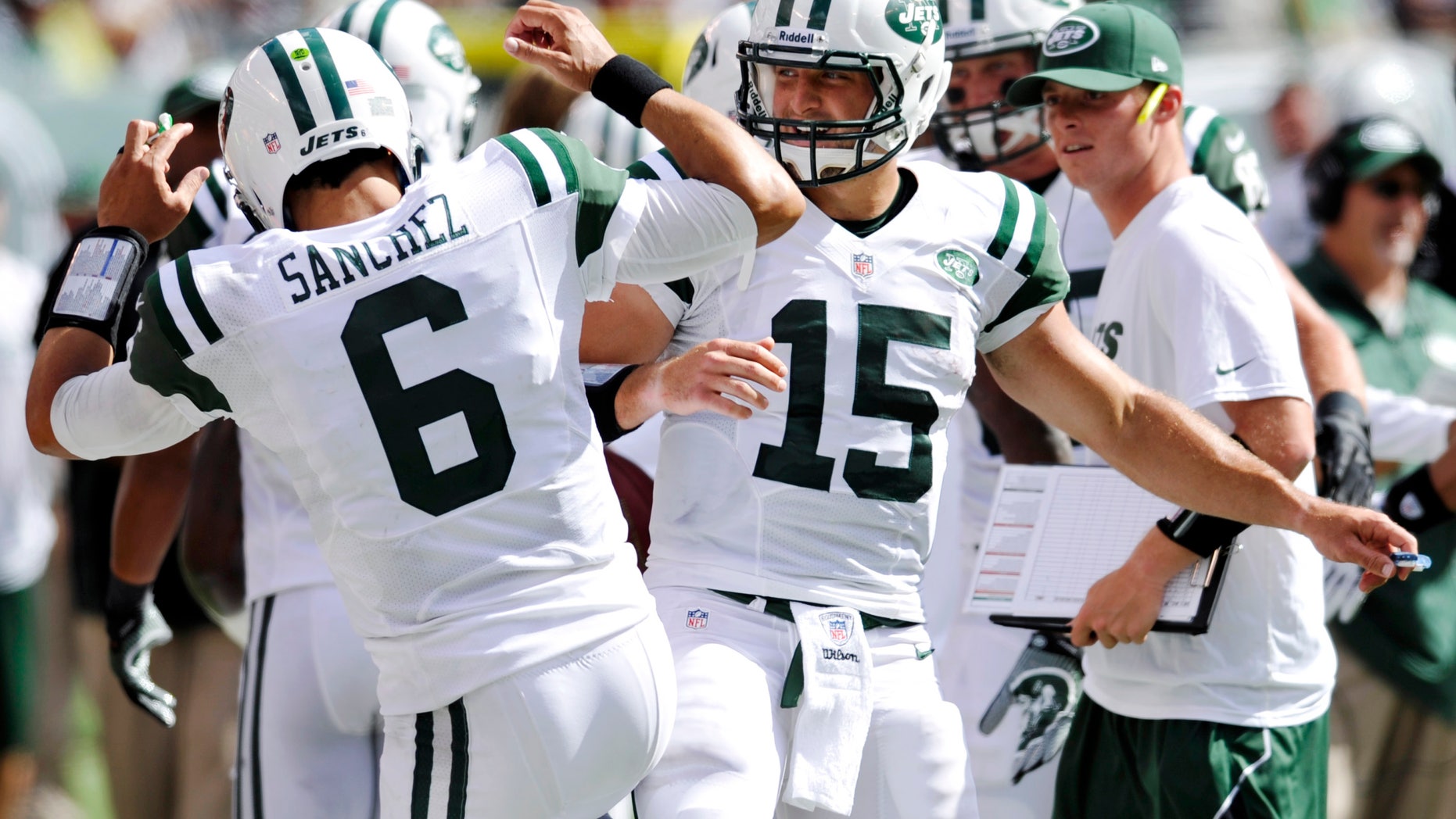 EAST RUTHERFORD, N.J. – Mark Sanchez had reason to celebrate in last night's victory over the Buffalo Bills.
Silencing the tough criticism he has received since his lackluster preseason performance, Sanchez and the New York Jets' not only won their first game of the season but set a franchise record for most points scored in an opener.
"We were up for it, there's no question about it," Coach Rex Ryan said. "I think vindication, or chip on the shoulder, maybe that's not the right (words). We were just excited to play. We feel good."
One touchdown after another, New York manhandled the Bills with a whole lot of Mark Sanchez, a sprinkling of Tim Tebow and a dominant first-half effort by the defense.
"It looked like we were making up for lost time there," Sanchez said.
Sanchez threw three touchdown passes, including two to rookie Stephen Hill, Kerley had a touchdown catch and a punt return for a score, and Antonio Cromartie took one of New York's three interceptions of Ryan Fitzpatrick to the end zone.
"It's a great win, there's no doubt about it," Sanchez said. "But, we've got lots of work to do."
There were plenty of touchdowns in this one for the Jets, who capped their scoring outburst on Shonn Greene's late 1-yard scoring run.
Sanchez had the offense humming along so well, the fans at MetLife Stadium actually booed Tebow when he failed to gain a yard when he took a direct snap in the second quarter. The video board quickly flashed a sign: "Quiet! Offense At Work!"
"As excited and happy as I am about this win, it's only one win," Ryan said. "Obviously, we need a lot more to get to where we want to get to, which is the playoffs."
The game marked the highly anticipated debuts of Tebow, who worked in the wildcat a little bit and also recovered a late onside kick by Buffalo, and Bills defensive end Mario Williams — who was a non-factor against a Jets offensive line that protected Sanchez throughout and gave him plenty of time to throw. Williams finished with just one tackle and complained about the replacement officials after the game.
"Obviously, some of the officials on the field don't understand what constitutes an offsetting penalty, and that's disappointing," said Williams, who signed a six-year, $100 million deal in the offseason that is the biggest for a defensive player. "Also, pass blocking doesn't include hands to the face. When someone tells the officials that and they just walk away, or they don't call it, that's disheartening."
Tebow wasn't used that much by the Jets, but added a tricky element to the offense and finished with five rushes for 11 yards and didn't throw a pass.
"After a little bit, we didn't show too much," Tebow said of the wildcat plays. "We were able to get in there
The Jets opened the game to loud cheers as both Sanchez and Tebow took the field, with the backup quarterback lined up as a slot receiver. Three plays later, Tebow took the snap with Sanchez lined up at wide receiver and handed to Joe McKnight for a 3-yard run.
With the offense moving along, Sanchez took off running and tried to shovel a pass to Jeff Cumberland, who had the ball tip off his hands and right to Bills linebacker Bryan Scott. But the Jets got the ball right back a few minutes later when Revis stepped in front of Fitzpatrick's pass intended for Johnson.
New York used its wildcat package a few times to get into the end zone on its next drive as Sanchez hit Kerley on a 12-yard pass for a touchdown.
The Jets' defense stepped up again a few minutes later, this time with Kyle Wilson picking off Fitzpatrick's pass intended for David Nelson, who later left with a knee injury.
Five plays later, Sanchez connected with Hill for a 33-yard score on the opening snap of the second quarter to put the Jets up 14-0.
"He definitely turned it on today," Kerley said of Sanchez. "I think there's always a big target on Mark's back and I think he likes it."
The Bills scored 21 straight points to get within two touchdowns late. But Buffalo's onside kick attempt went right into the hands of a waiting Tebow, and New York sealed the game on Greene's TD run.
"Regardless of what the opinions are outside of our building, they don't affect us," Sanchez said. "That's the most important thing moving forward, is worrying about each other (and) caring about each other."
Based on reporting by the Associated Press