Mark Sanchez believes Broncos drafting Lynch is a vote of confidence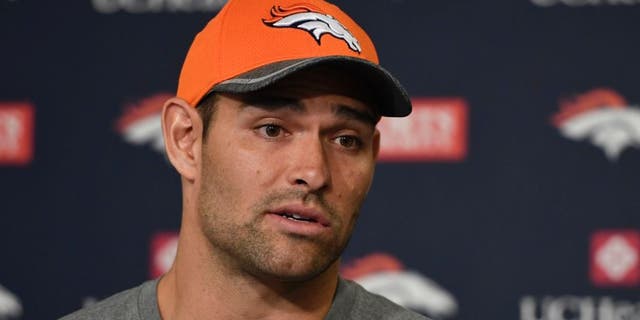 NEWYou can now listen to Fox News articles!
The Denver Broncos traded up to land former Memphis quarterback Paxton Lynch with the 26th pick in last week's draft. With the defending champion's perilous situation at quarterback, this move was viewed as big win for the Broncos.
With so much love surrounding Lynch's selection, you'd think Mark Sanchez would be worried about his chances to start Week 1. But if Sanchez is concerned, he isn't letting on. The veteran QB viewed the Broncos' first-round selection as affirmation that he would be the starter once the season kicks off.
"Absolutely, that's the message I've received,'' Sanchez said Monday following the team's workout, via ESPN. "I'm thrilled with this opportunity.''
Sanchez, who hasn't started a majority of his team's games since 2012 while with the Jets, reached out to Lynch to congratulate him on being drafted. And the prospect of the Broncos bringing in another established quarterback -- they reportedly have had discussions with the Eagles about Sam Bradford and the 49ers regarding Colin Kaepernick – doesn't seem to bother Sanchez.
"Whether it was a veteran who came in, any of those things that were out there, any of these guys in the draft that were going to the pros this year, my focus wouldn't change,'' Sanchez said. " ... Why become a slave to your emotions like that? It's not worth it, you're just spinning your wheels for nothing.''
It's tough to find fault with Sanchez's outlook regarding the quarterback competition, but it will be his actions on the field that ultimately determines his spot on the depth chart.