Mark Richt, Miami can search for depth with probation now over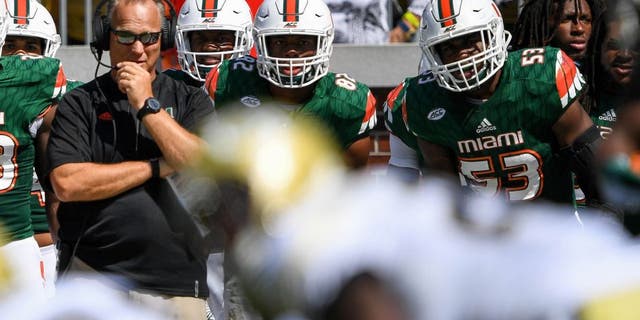 CORAL GABLES, Fla. (AP) -- Miami coach Mark Richt has seen his team lose three straight games, freefall in the Atlantic Coast Conference and go from unbeaten to mediocre in a span of 13 days.
Even amid all that, he found something to like Friday.
The Hurricanes' three years on NCAA probation is over.
Scholarship restrictions won't be an issue for Miami going forward, and the Hurricanes can surely use the added depth that's coming. The stats from Thursday night's 37-16 loss at Virginia Tech showed Miami used 49 players -- 25 being freshmen and sophomores, in some cases because of skill and in many cases because the roster is so decimated that Richt has few other options.
"It's great that we're going to be able to get to a full allotment of scholarships," Richt said Friday. "That's part of our issue right now, that we're very thin in a lot of spots. I think we might have had six true freshmen playing defense at the same time in that ballgame. So when you get your numbers back and you get a couple cycles of recruiting and get some depth, then you can withstand some of the injuries that we've had."
Miami's final day of probation was Friday, a milestone day in the Nevin Shapiro scandal that shook the university. The rogue former booster is scheduled to be in federal prison until 2027 for masterminding a $930 million Ponzi scheme, and after his downfall from his ill-gotten lavish lifestyle he turned to the NCAA in an effort, he said, to destroy the Hurricanes and the people at the school who he said betrayed him.
"It is a big day," Richt said. "There's no doubt."
Richt knew Miami wouldn't be a quick fix in his first season. The Hurricanes started 4-0 and rose to No. 10 in the Top 25 -- the four teams they beat are currently a combined 10-15 this season -- and all that was before Miami, which wasn't a particularly deep team to start the season anyway, started dealing with a number of significant injuries.
The Hurricanes are 0-3 since, having failed to reach 20 points in any of those games. Miami didn't have a single three-game slide from 2000 through 2005. In the 11 seasons since, it's now eight that have included losing skids of three or more games.
Richt's task going forward will be turning that around.
To get that done, it'll take more than a few more scholarships. Even at 4-3, he's not questioning his team's effort. There's only so much he can get from the beat-up Hurricanes right now.
"You get a few injuries when you're already light as it is, it's kind of a domino effect on your offensive and defensive side of the ball but it also affects your special teams as well," Richt said. "We've got guys just flat out sucking it up and we're not subbing as much as we would like to because of the fact that we're a little bit light."
Miami next plays on Oct. 29 at Notre Dame, a renewal of one of college football's great rivalries. It'll be the 25th meeting between the programs, and only the fifth where neither team is nationally ranked. Notre Dame (2-5) is off this weekend.
The one edge to playing a Thursday-nighter this week was it gave Richt and his staff a chance to get some recruiting work done on Friday night. Fitting, given how there's finally going to be 85 scholarships available again.
"Getting our numbers back is going to be huge," Richt said. "We've got a bunch of great young men really excited about our program. They know the future's bright."