Mark Martin's classic No. 6 Ford Thunderbird shines at Charlotte Auto Fair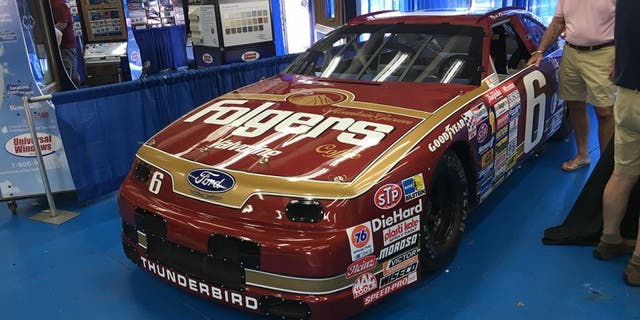 Even when NASCAR isn't the star of the show at Charlotte Motor Speedway, it still makes its presence more that felt.
This weekend, the 1.5-mile track hosts the Charlotte Auto Fair, a collector-car lover's orgy of old cars, parts, books, magazines, memorabilia and anything else you can think of automotive related.
We saw a few NASCAR items at the auto fair Saturday morning, including an old No. 8 Dale Earnhardt Inc. sign board signed by Dale Earnhardt Jr. and a very cool Pontiac Trans Am pace car from the 1999 Daytona 500.
But the star of the show, at least in NASCAR terms, was Mark Martin's Folgers-sponsored Ford Thunderbird from the early 1990s.
Martin, who was voted into the NASCAR Hall of Fame class of 2017, ran the Folgers colors on his Jack Roush-owned T-bird for just two seasons, 1990 and '91.
And they were two of his very best years. During the time he carried the Folgers sponsorship, Martin won four races and posted 30 top-five and 40 top-10 starts in just 58 races. In 1990, Martin finished second to the late Dale Earnhardt in points.
Without question, this one of the very best of his many good-looking paint schemes.