Mark Hunt: When Frank Mir fails to take me down, I'll knock him out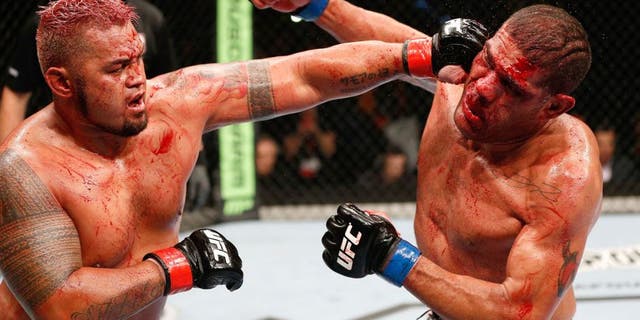 Mark Hunt has fought for a long time. The hard-headed New Zealander also has a penchant for taking punishment as well as giving it out to opponents.
So it is little wonder that as he fights on into his 40s, fans of Hunt are beginning to worry about his long-term health. The man of faith himself, however, doesn't give a lot of thought to how he'll end up.
"You're not gonna live forever," he recently told Submission Radio.
"You're gonna die like everyone else. But to be honest, no, I don't care what happens to me. I'm just gonna live a full life as best as I can, enjoy it while I can, and then move on. I mean, I don't really care what happens to Mark Hunt. I mean, we're all destined to die, that's for sure. So if I die doing what I love to do, that's fine. So be it, I'm happy."
He next fights Frank Mir in March in his adopted home of Australia. The bout will be a contrast of styles as the former world kickboxing champion Hunt will look to keep things standing against the Brazilian jiu-jitsu black belt Mir.
"It's going to be a great fight. I know his game plan and I know that he knows mine, you know. I know he knows I'm going to try and knock his lips off, and he knows that I know he's going to try and break my sh-t up [laughs]," he predicted.
Hunt isn't afraid of the prospect of ending up on the mat against the submission expert, though. "Oh, I can get on the ground with anybody," he boasted.
"Like I said, you gotta be well versed in all areas to be playing around at this top end. You know what I mean? So I should've been a black belt already, I mean I've been training in jiu-jitsu for a long, long time. But yeah, I don't mind going to the ground or wherever. If the party's going there, then that's where we're going. That's fine."
However, Hunt doesn't plan on being easy to take down. His game plan is clear and unhidden.
"I think Frank Mir is gonna be trying to take me down and I'm gonna be knocking him out," he concluded.
"So I think after he realizes that he can't take me down, then he'll end up being knocked out, like the rest of them [laughs]."