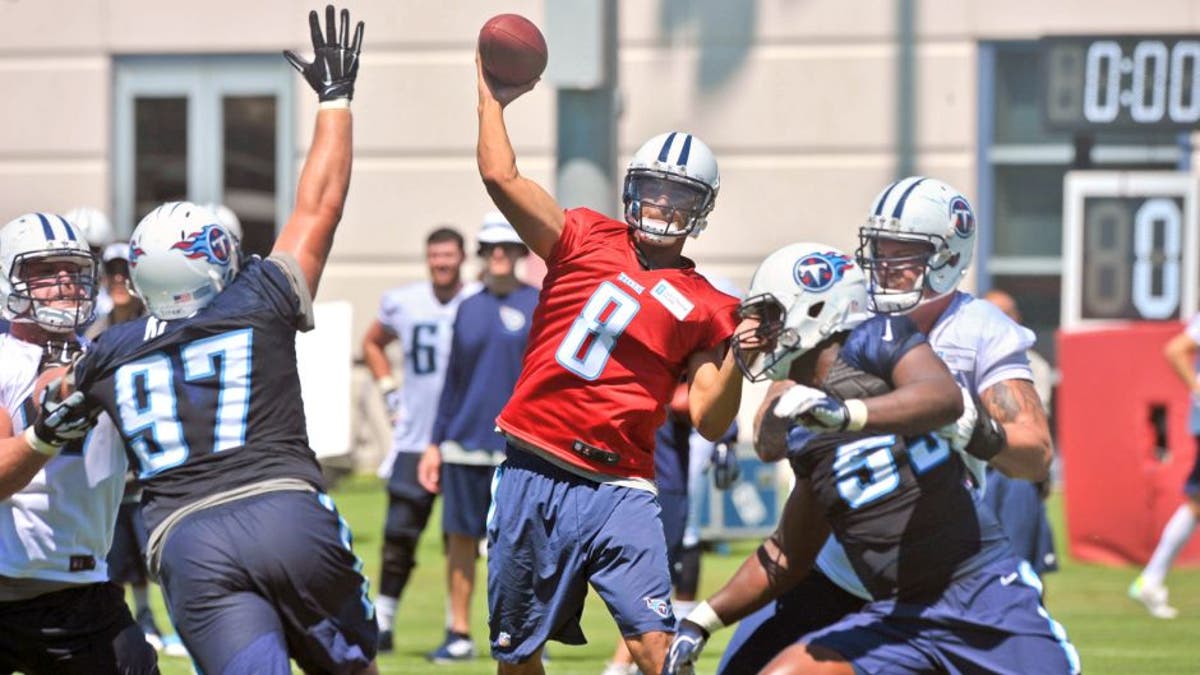 Marcus Mariota gave the Tennessee Titans a momentary scare Monday night when he scrambled and ran to the sideline where he crashed into a scout.
Mariota popped right back up and headed to the sideline after hitting the scout who worked hardest to convince the Titans to draft the Heisman Trophy-winning quarterback.
Mariota gave Marv Sunderland a hand to help him back up before running to the huddle.
Coach Ken Whisenhunt said Sunderland, who scouts the West for the Titans, was Mariota's biggest proponent this offseason.
"And then Marv's going to knock him out on the sideline? Thanks a lot, Marv," Whisenhunt joked.
The No. 2 draft pick overall out of Oregon finished the practice completing 11 of 15 passes in team and seven-on-seven drills combined. He is the only one of four Titans quarterbacks who has yet to be intercepted even once through four practices of training camp.
But seeing Mariota go down worried not only fans but the Titans. This franchise started three different quarterbacks last season because of injuries in a 2-14 season.
"Marc, I mean he's a tough guy," tight end Delanie Walker said. "When I (saw) it, I was shocked at first. But again like I said, he's a tough guy. I wasn't too worried about it. He (jumped) right up and went to the huddle. He was smiling, so that's a good sign."
Notes: OT Byron Stingily (illness), S Cody Prewitt (bruised foot) and RB Antonio Andrews (foot) did not practice Monday night. With a day off Tuesday, Whisenhunt said he expects all three back Wednesday. ... The Titans also had their first scraps of camp with three different fights, and safety Daimion Stafford was involved in two.