Mariano Rivera: Yankees Planning Exhibition Game In Panama To Honor Famed Closer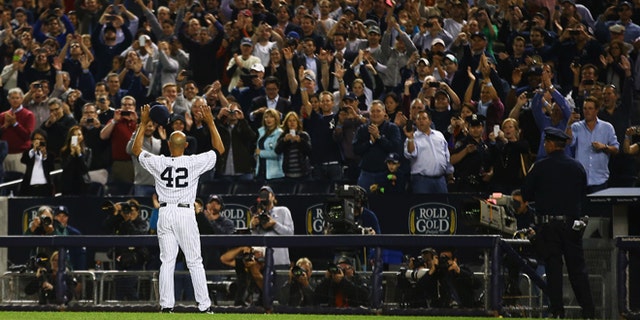 The honors keep rolling in for New York Yankees closer Mariano Rivera.
After an emotional final trip to the pitcher's mound Thursday night at Yankee stadium that saw the future hall of famer break down in tears amid the applause, the New York Post reported that the Yankees are considering playing an exhibition match to honor Rivera in his home country of Panama.
"It's not a done deal, but everyone wants it to happen," a source close to the deal told the Post. "It would be a powerful tribute to Mariano in his home country. Can you imagine the reaction in Panama?"
The source added that officials from the Yankees, the MLN, the MLB players union and the Panamanian government are all involved in talks about pulling off the tribute to Rivera.
When asked about the proposed game, Rivera said he would be thrilled to have the Bronx Bombers make their way down to his home country for a game. There is no word if the soon-to-be-retired closer will take an honorary strut to the mound.
Rivera, who made his first Major League Baseball appearance with the Yankees back in 1995, grew up playing ball in the small, poor Panamanian town of Puerto Caimito by using milk cartons for gloves, tree branches for bats, and fashioning balls by taping up wads of shredded fishing nets and beat-up baseballs. Before joining a minor league team connected to the Yankees, Rivera worked six-day weeks on a commercial boat captained by his father, catching shrimp and sardines.
During his MLB career, Rivera was instrumental in helping the Yankees bring home five World Series Championships between 1996 and 2009. He is regarded as one – if the not the greatest – athletes to come from Panama.
Thursday night's final game for Rivera, a Yankees loss to the Tampa Bay Rays, was an emotional affair for the Panamanian player, the Yankees team and the fans in attendance.
It was one of those special Yankees scenes that will join Lou Gehrig's farewell speech, Babe Ruth's last ballpark appearance, Mickey Mantle Day, the first game after Thurman Munson's death and the finale at the old stadium across 161st Street as moments to cherish and remember.
There was hardly a dry eye. The Yankees and Rays stood in tribute while fans blinked back tears, honoring the closer who turns 44 in November.
"I was bombarded with emotions and feelings that I couldn't describe," Rivera said after the game, flanked by his wife and three sons. "Everything hit me at that time. I knew that was the last time. Period. I never felt like that before."
The Associated Press contributed to this report.
Follow us on twitter.com/foxnewslatino
Like us at facebook.com/foxnewslatino