Marcus Morris denies standing in for twin brother Markieff in Wizards playoff game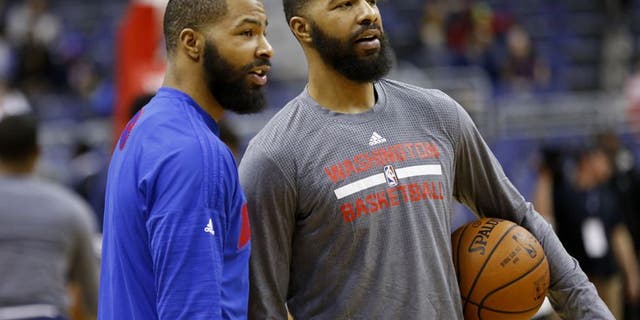 Washington Wizards forward Markieff Morris was moving around very well during the Wizards Game 2 loss to the Celtics. Normally that wouldnt be all that unusual, but some wondered if Morris was even healthy enough to play in the game after suffering an ugly ankle injury in Game 1.
It got some conspiracy theorists wondering if we werent actually watching Markieff Morris in Game 2 but rather his identical twin brother Marcus, who plays for the Detroit Pistons.
Marcus addressed the rumors on Twitter in an attempt to end any potential controversy.
The questions arent too surprising when you see how similar their games are and even their numbers. Both are bruising play power forwards who like to step out and shoot the 3. Markieff averaged 14.0 points, 6.5 rebounds and shot 36 percent from deep for the Wizards while Marcus also averaged 14.0 points with 4.6 rebounds while hitting 33 percent from beyond the arc.
Markieff played 27 minutes on his bum ankle in Game 2 and finished with 16 and six rebounds, but the Celtics won a thriller in overtime, 129-119 to take a 2-0 series lead.