Marcus Mariota: Titans need to learn to finish games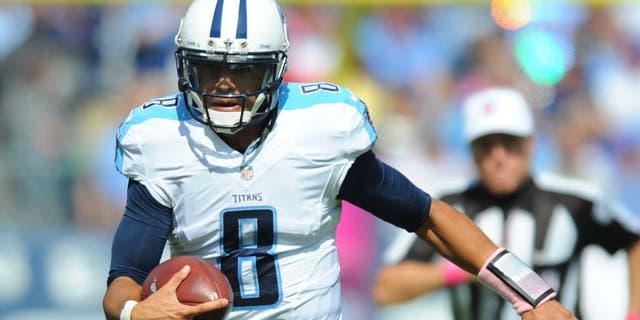 NEWYou can now listen to Fox News articles!
After squandering another fourth-quarter lead in Tennessee's 14-13 loss to Buffalo on Sunday, Titans quarterback Marcus Mariota said his team needs to learn how to finish games.
"This is the NFL and you can't expect to go undefeated every year. You just have to take your lumps and bruises, learn from your mistakes and just try and get better and finish off the season strong,'' Mariota said, per the team's official website.
"You just have to learn from situations. We are a young team. I think that the guys can learn from these situations and build upon it. Once you get a couple of these, it leaves a sour taste in your mouth. You don't want to go through that again, so we'll learn to finish games. Obviously we can improve on those things and we'll go from there."
Mariota failed to throw a touchdown against the Bills, completing 21 of 32 passes for 187 yards with one interception, but he was abile to showcase his mobility, running five times for a season-high 47 yards.
The rookie quarterback said the close losses, while discouraging, are an indication the Titans' competitiveness. The Titans lost their previous game to the Colts despite holding a fourth-quarter lead as well.
"I think for the most part, you have to look at it, and there should be a lot of confidence in that room. We've been in games and we've had opportunities to win it,'' Mariota said. "That says a lot about this team, we've just got to go ahead and finish. We finish some of those games, we'll be in a better position. Now moving forward we have a sour taste in our mouth, we just have to continue to grind and continue to work hard hopefully we'll end up on the other end of some of these."
MORE NEWS: Want stories delivered to you? Sign up for our NFL newsletters.