Marcus Georges-Hunt's last-second bucket lifts Georgia Tech over Notre Dame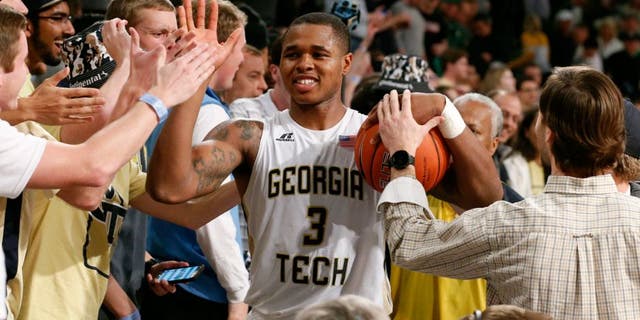 Of all the teams in the top half of the ACC standings, No. 19 Notre Dame has the easiest remaining schedule.
However, the Fighting Irish may have had their hopes of claiming at least a share of the ACC regular season title dashed on Saturday night when Marcus Georges-Hunt lifted Georgia Tech to a 63-62 upset win in the final seconds.
Georges-Hunt finished with 19 points and seven assists.
Georgia Tech picks up its fifth conference win this season. Notre Dame could have made it four-way tie for second place in the ACC standings along with Miami, Virginia and Louisville (which is ineligible for all postseason competition). The Fighting Irish are now tied with Duke with identical 9-5 records in league play. The top five seeds with get double byes in the ACC Tournament.
Next up for Notre Dame is Wake Forest, a team that has lost 11th straight and recently suspended leading scorer Devin Thomas.