Marcin Tybura hands former UFC champ Andrei Arlovski his fifth straight loss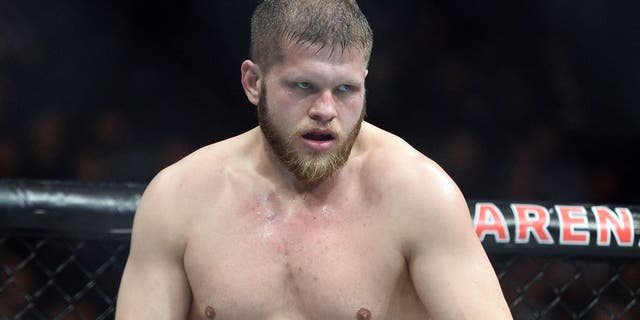 NEWYou can now listen to Fox News articles!
Marcin Tybura got the biggest win of his UFC career on Saturday while handing former champion Andrei Arlovski his fifth consecutive defeat when the heavyweights clashed in the co-main event on Saturday.
Tybura was actually coming off two straight knockout wins, but the Polish heavyweight was best known for his grappling skills and that's what he used to ground Arlovski's striking attack throughout the majority of the fight.
Arlovski attempted a spinning back kick at the start of the fight, but his striking was largely negated after Tybura snatched a takedown to put him on his back.
Tybura was relentless with his ground attack as he consistently looked to pass Arlovski's defensive guard while raining down a series of hard, stinging punches.
Tybura eventually moved to the mount where he continued his assault with Arlovski doing his best to defend the offensive onslaught. Tyburan then attempted to take the back while firing off even more shots, but he just couldn't put Arlovski away.
With just seconds remaining, Arlovski finally slipped out of the position to get back to the feet and it was clear that Tybura exerted a lot of energy while trying to get the finish on the ground.
Arlovski began firing off a barrage of punches that had Tybura backing up, just waiting for the end of the round. Tybura survived the onslaught but Arlovski was clearly surging as he went back to the corner.
Arlovski maintained his control in the second round with a grueling pace while Tybura's lungs were absolutely burning as he surrendered position against the cage while just trying to catch his breath.
Despite seeming exhausted going into the final five minutes, Tybura was able to get a second wind while rushing across the Octagon to lock onto Arlovski before dumping him to the mat.
Tybura started to pepper away at Arlovski on the ground while maintaining control on the ground to ensure the referee had no reason to stand them back up again. While Tybura didn't do nearly as much damage late as he did early, he still stayed in control with Arlovski absolutely stuck underneath him until the final horn sounded.
When it was over, Tybura earned the hard fought victory with the scorecards reading 29-28, 28-27, and 29-27 all in his favor.
The loss drops Arlovski to 0-5 in his past five fights as the former heavyweight champion suffers through the toughest run of his veteran career.