Marcin Gortat says Wizards have 'one of the worst benches in the league'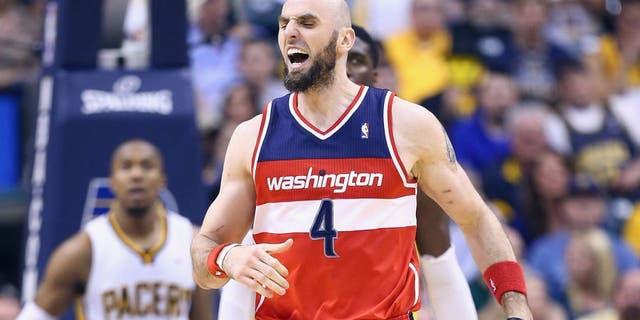 The Wizards are off to a 2-7 start, and there doesn't appear to be any hope in sight. John Wall and Bradley Beal have each missed a couple of games, but the real issue is that Washington's starters are getting almost no help when the reserve unit enters a game.
Starting center Marcin Gortat, who has never been afraid to tell it like it is, ripped the second-stringers after Saturday night's loss to the Bulls.
"We need energy. We need effort. We've got to make shots," Gortat said, via NBA.com. "I think there's a lot of things we can do better. I think right now, as far as I know, I think we've got one of the worst benches in the league right now."
Gortat isn't wrong. Only the Sixers, Knicks and Magic have a lower net rating for their reserve players in total, but at least in Washington, there may be a reason why.
The Wizards swapped out six of their bench players from a season ago, and in doing so gave up a ton of NBA experience. The average age of last year's group was 30.3 years; this season's squad averages just 26.
Add in the fact that the new reserves have been playing together for about only six weeks, and the struggles become understandable. It'll take some time, however, before we know if the early-season woes are something that can be fixed.