Marcell Ozuna's 9th-inning homer not enough for Marlins vs. Angels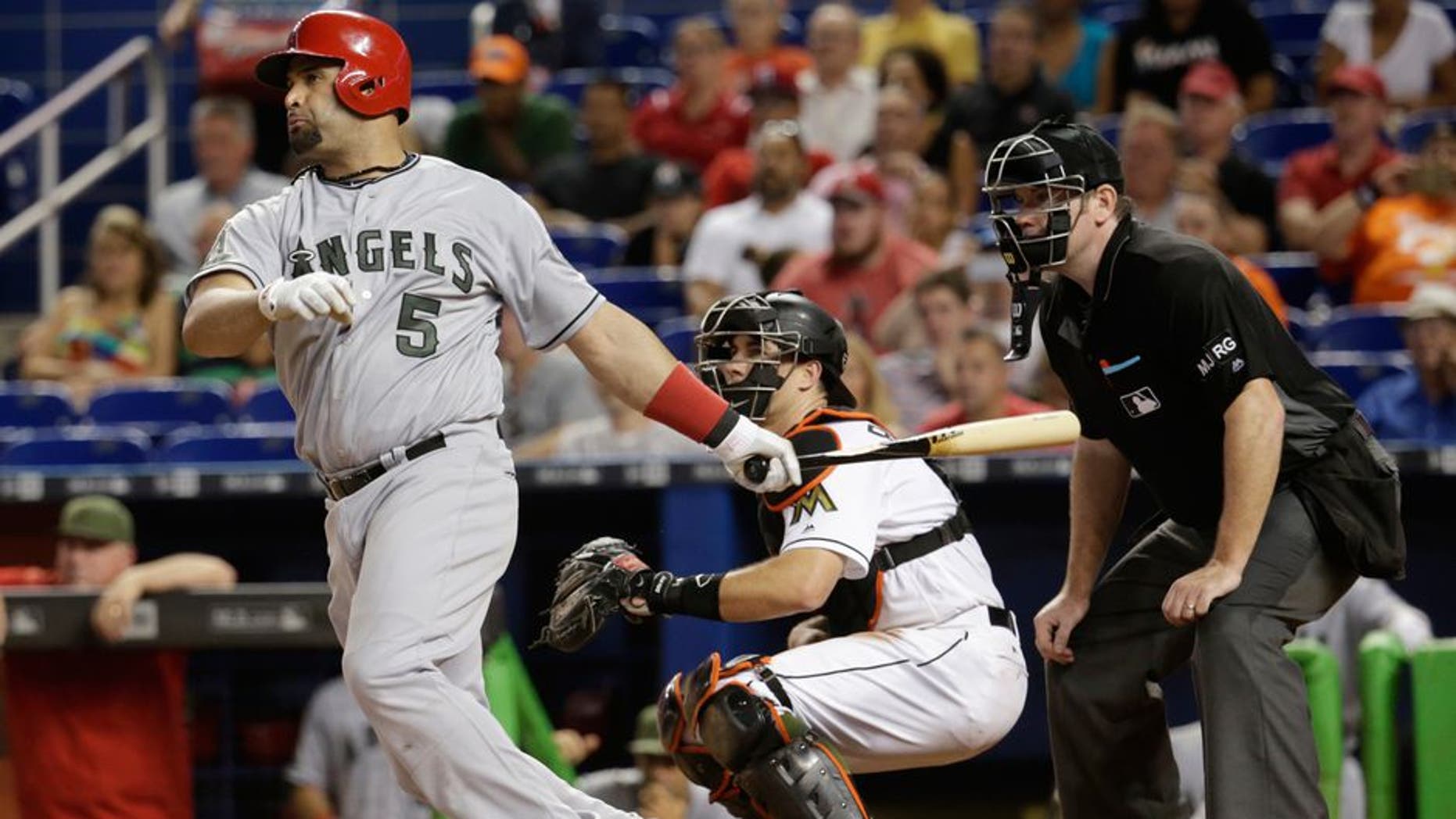 MIAMI (AP) -- Mike Trout hit his major league-leading 16th homer, and the Los Angeles Angels reached the .500 mark for the 12th time this season by beating Miami 5-2 Saturday.
Trout's first-inning homer into the beer garden in left field was estimated at 443 feet, which pleased a fair portion of the crowd at Marlins Park.
"Hate Fish Love Trout," read a sign held by an Angels fans.
J.C. Ramirez (5-3) limited Miami to an unearned run in seven innings and benefited from excellent defense. Bud Norris, who tweaked his right knee and left Friday's game after throwing only three pitches, gave up a homer to Marcell Ozuna in the ninth.
Cameron Maybin put the Angels ahead to stay in the third when he tripled and scored on Andrelton Simmons' groundout. Maybin also singled, stole two bases and scored three times. Simmons had an RBI double and was robbed of a homer by left fielder Ozuna.
Luis Valbuena hit a two-run single. Trout struck out twice but also reached on an infield single, raising his average to .342.
Los Angeles improved to 26-26. The Marlins were trying for their first two-game winning streak since April 23 but instead fell to 7-15 at home, worst in the majors.
Vance Worley (0-2), pitching his second game of the year, allowed two hits and two runs and likely earned another start.
Miami scored in the first when shortstop Simmons threw the ball into the stands on a two-out grounder with a runner on.
SUZUKI'S WOES
Ichiro Suzuki grounded out pinch-hitting for Miami with two on to end the seventh. He is 4 for 29 (.138) as a pinch hitter and is hitting .148 overall in 61 at-bats.
DEFENSE
The Marlins loaded the bases with two out in the fifth, but catcher Martin Maldonado picked Dee Gordon off first base to end the threat. Gordon was initially ruled safe before the call was reversed by a replay review. … Maldonado scrambled to field Christian Colon's topper, then spun and threw him out, and Simmons went deep in the hole to field Giancarlo Stanton's grounder and throw him out.
ROSTER MOVE
Before the game, the Angels reinstated RHP Mike Morin (neck) from the disabled list and optioned RHP Daniel Wright to Triple-A Salt Lake.
TRAINER'S ROOM
Angels: Maldonado, who hurt his thumb on a tag at the plate Friday but stayed in the game, was back in the lineup after X-rays were negative. … Maybin (right knee) was back in the lineup after missing one start. … RHP Cam Bedrosian (groin) faced hitters for the first time since going on the DL when he pitched Saturday in extended spring training. He's expected to soon begin a rehab assignment.
UP NEXT
Angels RHP Matt Shoemaker (4-2, 3.97), who has won his past three starts, is scheduled to pitch in the series finale Sunday against RHP Jose Urena (2-2, 3.08).